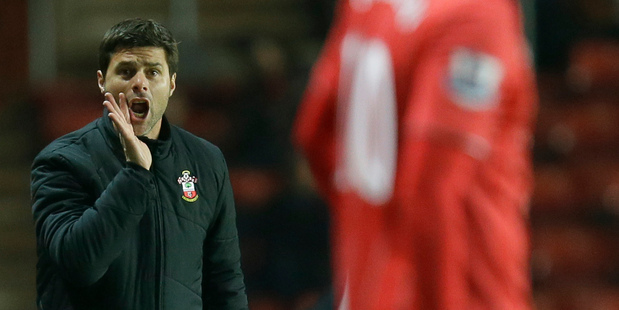 Mauricio Pochettino's first match as manager of English Premier League soccer club Southampton ended in a goalless draw at home to Everton yesterday.
The result moved Southampton four points clear of the bottom three and left Everton three points adrift of the top four and a place in next season's Champions League.
"I just want to thank the players, they've been very good to me in the three days I have been working with them," said the former Argentina international Pochettino.
"And the supporters have been very good to me. The only shame was we didn't score any goals but we were facing a very good side in Everton, they are fifth in the league."
Pochettino was appointed after Southampton, once a byword for managerial stability, sacked Nigel Adkins on Friday just two days after the Englishman had overseen a draw away to European champions Chelsea.
Adkins joined Southampton from Scunthorpe in 2010 and took the Saints, then a third-tier club, into the Premier League with back-to-back promotions.
His exit as manager came with Southampton, who struggled at the start of the season, in the middle of an encouraging run of results which had tallied only two losses in their past 12 league matches.
Pochettino was brought in by Southampton executive chairman Nicola Cortese despite having been sacked by Espanyol in November with the Spanish side bottom of La Liga.
"I was frustrated with how we played and frustrated in the second half that we did not get the goal," said Everton manager David Moyes, the third longest serving manager in the Premier League.
-AAP