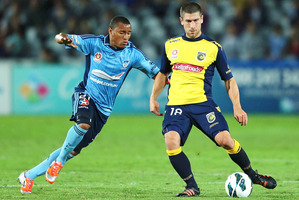 In a night of records, the Central Coast Mariners stamped themselves as the class of 2012 with a stunning 7-2 win over big-spending Sydney FC in Gosford.
In claiming three goals, much-travelled Daniel McBreen, 35, became the first Mariner to score an A-League hat-trick. In bagging those seven goals, the home side joined Brisbane Roar as the second team to score seven in a match.
The Roar's seven were scored in beating Adelaide United 7-1 a year ago; back at Suncorp Stadium on Saturday, Adelaide won the same fixture 1-0.
The 7-2 scoreline in Gosford equalled the record for the highest number of goals in a match following Adelaide's 8-1 win over the defunct North Queensland Fury in January last year and Central Coast's 5-4 loss to Sydney FC in December 2007 - the last time Sydney won on the northern trip.
All Whites midfielder Michael McGlinchey capped a fine game with possibly the goal of the match.
Central Coast coach Graham Arnold, who resisted a big money offer to join Sydney in the off-season, said he had remained in Gosford "because I love this club". So do the fans of which 15,686 turned up to watch the massacre.
"It's a new system and still a work in progress," said Arnold. "I think that we can be better in transition to attack," he said.
Brisbane Roar boss Rado Vidosic would have had mixed feelings after his team went down to Adelaide United.
The only goal, a superb third-minute freekick, was scored by his son Dario.
In holding on to that precious lead for the remaining 87 minutes, Adelaide ended the round still two points clear of the Mariners with Perth and Newcastle a further point back after the Glory had won that clash 3-2 at home.