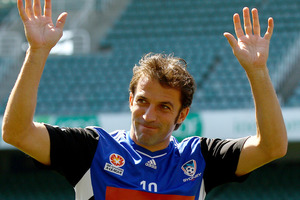 Italian superstar Alessandro Del Piero is happy with a strong start to his Sydney FC career but says his best is yet to come in the A-League.
The 37-year-old striker has impressed in all three matches for the Sky Blues so far, scoring two goals including the winner in Saturday's breakthrough 1-0 win over Western Sydney.
The Juventus great will play his 800th professional match, including club and international games, against Perth Glory at ANZ Stadium on Sunday and says he's improving each week.
"I'm not 100 per cent, definitely," Del Piero said after training on Wednesday.
"But I'm feeling good because I'm training every day and this is important.
"After five weeks, I think I'm happy to be in this condition and hope to do my best in two or three weeks.
"... I know my teammates more day by day and we won our first game and nice news happen so it's a good start."
Del Piero spent 19 seasons with Juventus, two with Padova as a youngster and played 91 internationals for Italy, including a World Cup win.
He said he never dreamed of playing so many games, or that his 800th match would be in Australia.
"If I'm honest, no, but I'm happy it will happen here," Del Piero said.
"It (800 games) is a long time. I'm happy to be here and I broke a lot of records in Italy. Now I start here.
"When I played my first game, I was really happy - it's enough. I was 18 and I didn't know what would happen with the future.
"I had a lot of dreams and a lot of them have happened and I'm lucky for that."
Del Piero won a controversial penalty in the win over the Wanderers at Parramatta Stadium but denied suggestions by Western Sydney goalkeeper Ante Covic he was receiving favourable treatment from referees because of his status.
"Absolutely not," Del Piero laughed as he addressed a large throng of media.
"For sure, no. Unfortunately, not."
The striker said he was coming to grips with the physical nature of the league and expected more of the same against the Glory.
"They are a very good team, not only physical but technical, and that's probably why they have six points now," he said.
"I have to do my best. I'm not big so I have to do something else but I have time in training to understand what is best for the team."
-AAP