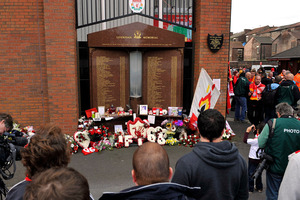 The campaign for justice for the Hillsborough victims took a major step forward yesterday, as the British Government prepared the way for fresh inquests into their deaths.
It also emerged that the Independent Police Complaints Commission was about to receive a full list of officers who were on duty on the day of the disaster.
Relatives of the 96 Liverpool fans who died in the crush 23 years ago welcomed the announcement by the Attorney General, Dominic Grieve, who said he would apply to the High Court to have the original verdicts of accidental death overturned.
The families are pressing for charges of manslaughter to be brought against people and organisations whose mistakes contributed to the deaths of the fans as they crowded into Sheffield Wednesday's Hillsborough stadium in April 1989 to watch their team play an FA Cup semifinal.
Grieve's highly unusual move came five weeks after a damning report by an independent panel exposed a cover-up by police, who attempted to shift the blame for the deaths on to the victims.
The panel also estimated that 41 lives could have been saved if the emergency services had been quicker to respond to the disaster.
The Chief Constable of South Yorkshire Police, David Crompton, told the Commons Home Affairs Select Committee yesterday that his force had identified about 1000 officers who had been on duty on the day of the disaster.
He said their details would be handed over within a fortnight to the Independent Police Complaints Commission.
- Independent