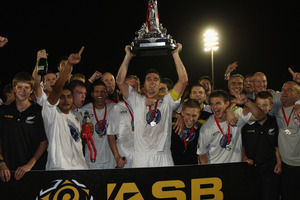 Waitakere United swept aside Team Wellington to claim their third ASB Premiership title in a row with a 4-1 win at Trusts Stadium tonight and snare with it an O-League berth for next season.
Team Wellington dominated possession in the first half with Henry Fa'arodo the star turn for the capital men, but there was always the sense that if Waitakere could hold on they may inflict damage on the counter attack.
That scenario would eventuate but not before a controversial moment as halftime loomed.
With a minute to go before halftime Dakota Lucas burst through the Waitakere United defence and appeared to be hauled down by Chris Bale, but referee Nick Waldron waved play on much to the dismay of Team Wellington.
Dismay turned to anger when Roy Krishna opened the scoring in additional time, twisting in the penalty area before lashing a right foot shot past Phil Imray.
That moment proved to be a turning point in the match.
In the second half Waitakere United squeezed Team Wellington out of the match with their more experienced outfit led by Bale, Jake Butler and Martin Bullock took control of midfield.
Where Wellington had created chances with regularity in the first half, they were left to feed on scraps in the second with Dakota Lucas working hard to create chances without success.
Phil Imray kept his side in the game with important saves from Pearce then Butler, but with Wellington chasing an equaliser it was perhaps inevitable that gaps would appear in their defence.
The match drifted away from the visitors when Allan Pearce lashed home Waitakere United's second with thirteen minutes left before Butler sealed the result with a third on 84 minutes.
Team Wellington responded within sixty seconds when Henry Fa'arodo's near post header beat Danny Robinson to give the Matt Calcott-coached side the faintest of hope, but Krishna put the match to bed as a contest when he notched his second and Waitakere United's fourth with a minute left to play.
The result capped a roller-coaster season for the Neil Emblen-led champions who at one stage looked odds on to not only lose their title but miss out on O-League football for the first time since the competition was established in 2006-07 season.
"I think there's a little bit of know-how in our group, the players know what's at stake.
Tonight's performance wasn't a vintage performance, and we had to dig in and show a bit of character in the first half against a good team that outplayed us," Emblen said.
With Team Wellington dictating the pace of the first half, Emblen complimented his players for their dogged resistance.
"Their system looked more comfortable than ours but we kept it 0-0 with some good defending and when the game opened up we took our chances quite well and was reward for our defending," he said.
Emblen reserved special praise for Chris Bale and Matt Cunneen.
"Matt Cunneen and Chris Bale were strong in the centre of defence, Tim Myers and Aaron Scott supported them well. They both really stood up tonight," he said.
Defeat broke Team Wellington hearts' with not only a first ASB Premiership title slipping from their grasp, but with it O-League football in the capital for the first time next season.
It was also Wellington's second Grand Final defeat in four years to the same opponents.

Team Wellington coach Matt Calcott was adamant the Bale-Lucas decision in time added on at the end of the first half was a pivotal moment.
He said: "I thought it was crucial. It looked contentious to me. They went up the other end and they scored. Key moments in a game like that can change things. I thought we were excellent in the first half and if we had got a wee goal ahead and that would've changed the look of the game. But Waitakere were good in the second half and thoroughly deserved their victory."
Calcott was optimistic the future of Team Wellington was in good hands with a young crop of talented players enjoying a productive first season under his guidance.
He said: "We have a lot of players that are 18, 19 and 20 years of age, they've got a lot of football to play. They've done the franchise proud. They've played at a level they may not have played at somewhere else. It's been good for Team Wellington but it's also been good for New Zealand football in general."

- APNZ