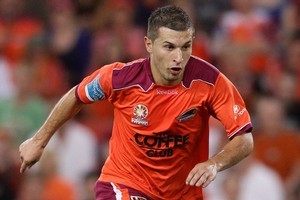 Kosta Barbarouses has spent too much time on the bench in his short career to make a hasty decision - even though he is being courted by European clubs.
The 21-year-old striker has attracted plenty of interest after a breakthrough season in helping Brisbane to a first A-League title.
He's just returned from trials with seven-time Serie A champions Torino and newly promoted Brighton & Hove Albion but had to forgo trials with two Dutch Eredivisie clubs, a German Bundesliga and German second division club, plus a top division outfit in Belgium. He needs to be in Brisbane tomorrow for the first day of pre-season training.
They are just trials, and countless players have trialled unsuccessfully before, but it shows how life has changed for the diminutive striker.
Twelve months ago, he was reflecting on the fact he rarely got a game for the Phoenix, having made 21 appearances (including just six starts) in three seasons at Wellington.
He hadn't really showed enough to deserve more but the absence of a reserve team meant he wasn't playing enough football to get into form.
He turned down a two-year extension in the capital, preferring the idea of playing for Brisbane's youth side than not playing at all. In the end, Barbarouses scored 12 goals in 33 games for Brisbane's first team to win their golden boot award and he was also selected for the A-League's team of the year.
Barbarouses is keen to test himself in Europe but he also has the security of two years left on his Brisbane deal. There is the A-League title to defend as well as their tilt at the Asian Champions League. There's the All Whites' double-header against Mexico and Australia in June and the national under-23 side's Olympic qualifiers.
"It was a great opportunity and experience [to go on trial] but at the back of my mind the whole time was the thought that it wouldn't be the worst thing to do to stay with Brisbane for another year or two," he says.
Barbarouses received positive feedback from his spells with both Torino, who are now in Serie B, and Brighton but neither club are in a position to consider him seriously until the off-season.
Barbarouses believes he could perform for either club
at that level. His Wellington experience is still fresh enough to remind him he doesn't want to set his sights too high - only to sit on the bench.
"From what I saw, Serie B looked a decent standard and I think I could definitely make an impact in that league," he says. "The Dutch first division would be a good stepping stone. Maybe not one of the top teams but a mid- or lower-table side. The same in Germany. I would love to move over there but it's a matter of making sure I do everything right. If I stay in Brisbane another year or two, it will help improve my game, and if I do well there, I'll end up where I want
to be."
Brisbane's accent on passing and movement suited Barbarouses perfectly. He might not have done so well had he gone to a club that played a more direct game. At just 1.71m, he needs the ball at his feet. He is at his best running at defenders, not competing in the air.
His form earned an All Whites recall for the recent international against China, where he played well as a second-half substitute in the 1-1 draw.
There's an expectation he will become an integral member of the squad in the next World Cup campaign.
He offers something different to the more physical strikers in the rest of the stable, in much the same way tricky winger Marco Rojas does. The pair represent an exciting future.
In many ways, Barbarouses needed to get away from Phoenix coach Ricki Herbert to get closer to All Whites coach Ricki Herbert.
"I got my confidence back," he says of his move to Brisbane. "I always had a lot of self-belief in Wellington but when you're not playing, it affects your confidence. You don't really have anything to look forward to when you can't express yourself as a player.
"Brisbane was a great move for me. I haven't looked back."