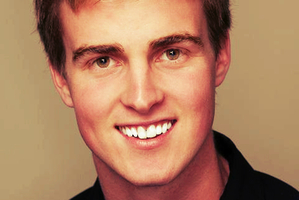 Campbell Ellison, a student from Massey University's Bachelor of Food Technology, whose owns a range of dairy-free desserts such as "ice creams", mousses, puddings and custard that are also free of egg, soy, nuts and gluten, meaning they are suitable for anyone suffering from allergies. They are also reduced sugar and fat but taste is not compromised.
What made you start looking for a new product for the market?
Initially we developed a dairy-free soft serve for a university assignment and so many people who couldn't eat dairy said that they would buy it if it was at the supermarket. So I entered the business plan into the Massey University Business Student Group's "Go Innovate" competition and won the People's Choice award.
Who has helped you along the way?
The Massey E-Centre has provided a lot of invaluable advice on channels, marketing and consumer research and Massey Institute of Food, Nutrition and Human Health has allowed the use of their facilities for the product development.
Christine Granger has helped develop the packaging and branding.
What are the possibilities?
I plan to start selling at farmers' markets to establish a brand presence and then start marketing them to specialty supermarkets such as organic and specialist diet shops.
Is this what you thought you would end up doing? What did you train in?
I wanted to work in product development of food as I have just finished a Bachelor of Food Technology (Honours) at Massey University.
Would you like your range to sell in supermarkets?
I would be more than happy for it to sell in supermarkets.
How do you feel about having business meetings with supermarket buyers and specialty food shops?
Very keen in the future. I may like to get some sales behind me through local markets or internet sales though.
Do you use social media to promote your product?
Yes, I have set up a page for Coco Chill on Facebook, where people can find out about the product range and I will be able to alert them to when and where they can purchase product.
Any tips to other young people who have a good product idea? What have you learnt along the way?
I would make sure you test all your ideas on potential customers and ensure that they would be happy to pay for it. Also, make sure you get hold of a business mentor who has done a similar thing and who can give you guidance and corrections. However, you can become hamstrung by people giving conflicting advice. Listen to the voice of the customer and try to delight them.


Next week: I think it's time to hear about small businesses creating products for the greater good who happen to be making a profit from it but the world would be a lesser place without them. Tell me your stories and be honest.