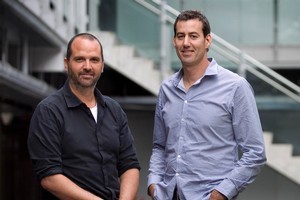 The jobs Ivan Seselj and Richard Holmes did on their British OE gave them the inspiration for their web-based software business, Promapp Solutions.
The two men, Macleans College alumni, worked together at British Airways on a change project, a recentralisation of the company's processes aimed at making the company $1 billion of savings. "We learned our trade making people adopt new processes," says Seselj.
He and Holmes worked as consultants for KPMG and Deloitte. Seselj worked with the Auckland City Council, then set up Promapp Solutions in August 2002.
He "headhunted" Holmes six months later, the pair setting out to make an organisation's processes more easily understood and communicated to the end user, whether telling a warehouse team how to unload a certain product, or helping a manager carry out an HR policy.
Promapp goes for the personal approach, keeping it simple to ensure better adoption of a new process.
"We go against the current. Often this stuff is done by business analysts, specialists, who tend to produce wordy complex manuals," says Holmes.
The early days were a struggle with both men working from home offices, a far cry from their corporate lives.
Their customers are mid-to-large organisations. New Zealand clients include McDonald's, Zespri, Genesis Energy and the Ministry of Economic Development. With offices in Mt Eden, the subscription-based company which has been in the Deloitte Fast 50 and the Deloitte Technology Fast 500 Asia Pacific, has 10 staff plus consultants.
Their two developers and tester are the backbone of the company, whose turnover will be $2 million this financial year, says Seselj.
Customer growth is around four new companies a month but that will change thanks to a new formal relationship signed in May this year with SAI Global, the publicly-listed Australian organisation which audits, certifies and registers products, systems and supply chain.
It is responsible for global qualifications such as IS0 9001.
SAI Global has trialled Promapp for three years and has committed to promote the technology to its clients to help them drive process improvement and enable them to simplify their management systems. It has taken on a full-time business development manager for selling Promapp on the market.
The deal has given SAI Global exclusive distribution rights for Promapp in Australia with a further option to distribute internationally, in North America and Europe.
"When Australia comes on, there is an early distribution agreement that should hopefully supercharge things a bit," says Holmes. Australia has around 800 city councils, a massive market compared with New Zealand.
The company recently introduced Promapp Touchscreen, which is ideal for manufacturers. The content is step-by-step instructions, supported by short videos, and clear pictures.
"It's a nice easy way of understanding a process," says Seselj.
Both Seselj and Holmes like the idea of building other companies like Promapp in their entrepreneurial careers. They are self-funded at this stage but will welcome investors.
Seselj has a 65 per cent share and Holmes a 35 per cent share of the company.
"We have got to where we are pretty comfortable but we also want to focus on creating a good, profitable business," says Seselj.
He and Holmes have a board to help advise them, made up of Business Changing's Zac de Silva and Kerry Gleeson, former chairman of Software of Excellence.
PROMAPP SOLUTIONS
* Web-based software business.
* Helps companies communicate their processes and systems - such as showing a warehouse team how to unload a certain product.
* Based in Mt Eden.
* Started in 2002.
* $2 million turnover expected this year.