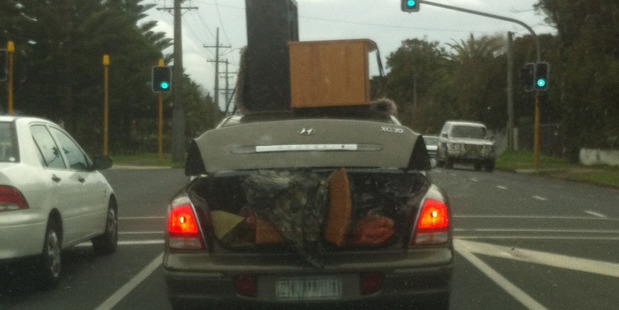 No trailer, no problem! Snapped last Tuesday afternoon in West Auckland by a gobsmacked Emma.
Ocean playmate organises dinner
A family in kayaks were watching a dolphin play in the waters off Combe Martin in Devon, England. Lucy Watkins' grandparents took her out on the sea because she loves dolphins and had never seen one in the wild. One dolphin played about the boats for a couple of hours, as if he wanted to be friends. But to their astonishment he dived down, then dropped a massive cod next to her and began nudging the whopping 10lb (4.5kg) fish towards the stunned teenager. Lucy and her grandparents wondered whether they should pick up the floating offering in case the dolphin wanted it for himself. But he resurfaced seconds later with his own fish - this time a seabass - and began tucking in. The family gratefully scooped up the cod and took it home for their tea. (Source: News.com.au)
Health and safety nitpickers pick on knitters
A knitting group that makes clothing for premature babies has been banned from meeting at a library in England because its needles are "dangerous" and its members are "too noisy". The Knit 'n' Natter group has met at a library in Cramlington, Northumberland once a week for three years and has knitted thousands of items for premature babies, and also replica breasts and wombs for trainee midwives. But the library has moved and said the new venue is too small to accommodate the group of around 30 members. A local councillor said there were also "health and safety concerns over knitting needles". (Source: Telegraph.co.uk)
Long-distance call
The Herald received a call last week from a British family wanting to get in touch with a relative last heard of living in Mt Albert. A sympathetic staffer, himself a Mt Albert resident, worked into the wee small hours to help. Using electoral rolls, our man supplied a list of former neighbours complete with phone numbers. Two days later, the family emailed to say they'd discovered their relative had died three years ago.
Fond farewell a little premature
In January 1934, at the age of 82, Arctic explorer W.J.A. Grant had a "farewell to life" champagne party, complete with a wooden coffin he had specially made. Five hundred people attended, as well as "a bevy of beautiful dancing girls". The partying lasted through the night. Grant, wearing a boutonniere in his coat lapel, mingled with his guests and pointed cheerfully to a notice on the wall that said he would die within a week. But the next day, having had only two hours of sleep, he announced that he now "felt fine". It took him another year before he finally kicked the bucket. Chicago Tribune - Mar 11, 1935 (Source: Weird Universe)
Gif goodness: Work in an office? Chances are this perfectly expresses how you feel sometimes...
Picture this: Do you have Sugar Mouth? Or Potato Lip? The effect of diet on the face, a magazine article from 1905 ...
Picture this: Following his success with Foodscapes Photographer Carl Warner's last project uses the human form to create landscapes like Shin-Knee Valley and The Cave of Abdo Men ...
Video: Ninja golf swing ...
Got a Sideswipe? Send your pictures, links and anecdotes to Ana at ana.samways@nzherald.co.nz