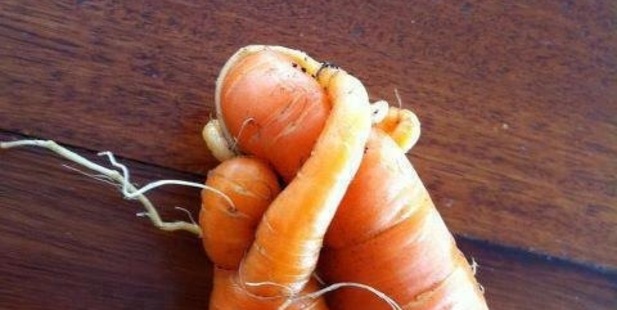 It's hard not to love home-grown organic veggies when they so clearly love each other, says Craig Dealey.
Power of social networking
Late on Friday night after the Westlake 50th jubilee celebrations a nicely toasted Scott Mackenzie caught a taxi home but left his iPhone on the back seat. Feeling like he'd lost a limb, Mackenzie tried ringing his phone and the taxi company. No joy there.
He then decided to send a message to his phone with his address - telling the driver he would pay a fare for him to return it. Then using Find My iPhone he watched the taxi travel all over the North Shore and realised the driver hadn't received his message. He then asked his wife if she would jump in her car to intercept the driver, but she had been drinking too.
He turned to Facebook and wrote this in his status update: "Is there anyone awake (and sober) on the North Shore who can jump in a car and chase a taxi that has my iPhone in it? I can tell you exactly where the taxi is because I am tracking it ..."
The comments came in thick and fast until a friend, Tolan Henderson, a mate he'd not seen in five years, hopped in his car and intercepted the taxi. "What a trip. Who knew at 11pm I would be hooning about the Shore chasing a taxi driver - the look on his face when a stocky dude jumps out of a blacked-out truck and forces him to pull over," wrote Henderson.
Mackenzie is rapt: "The power of social networking," he says. "The power of GPS."
Dealer's mother nabbed
Drug dealer Jesus "Pepe" Fuentes, 37, was arrested in Chicago after his mother botched a heroin pickup for him. Fuentes, eager to catch a concert by the rapper Scarface, sent his mother to gather the 10kg drop. She collected the drugs, but the entire shipment was lost when she failed to use a turn signal and was stopped by police. (Source: Chicago Tribune)
Leave a gap and slow down
"After spending two years watching CCTV cameras on the Auckland motorway system," says a reader, "I have seen many nose-to-tail accidents where the following distance has been the main factor. Sun strike is the next, then the weather. If you keep your distance then you won't end up inside the boot of the car in front of you, leave a gap and slow down."
New bulbs coming for Christmas
Kaiwaka, Little Town of Lights ... Mark Ottaway writes: "The lighting idea started about 15 years ago when we lit the local church. It made such an impression with the local businesses that they wanted to do the same. Myself and the late Barry Treadwell, a welding engineer, made the frames and installed the lights. I apologise for the blown bulbs but we will get them all up to speed for Christmas."