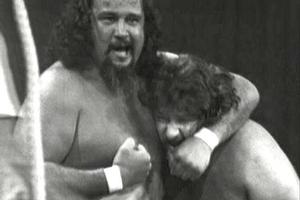 Climb up on to the back of the couch and dust off your singlets, kids, a new Kiwi wrestling show is coming to the telly. According to press material, Off the Ropes was filmed in Wellington and will be on Prime TV this year. Its predecessor, On The Mat, ran from 1974 to 1984 and was one of the country's highest rating shows. "The wrestlers are true athletes who combine the fighting arts with acrobatics and showmanship. There are going to be very strong characters in the show. There will be good guys, bad guys, bad guys who turn good and so on," says producer Stevo O'Rourke of Ocular Films.
* * *
Trevor Pretty sums up Auckland's transport woes: "I thought buses were cheap! I live in Pakuranga and work in Greenlane at Alexandra Park. According to Maxx the bus takes one hour and $5.90 one way. If I buy season tickets or 10 ticket rides it costs $2844 in bus fares. It's 15km or 1440km a year. According to fuelsaver.govt.nz I can travel 14,000km in my Skoda Octavia (diesel) for $2220 a year. My car is $600 a year cheaper to go door to door.
Oh, and the car takes 15 to 20 minutes and the bus one hour and it's almost a direct route."
* * *
A Canadian explains the In and Out store, pictured in Sideswipe yesterday: "Ontario sells alcohol through LCBO (Liqueur Control Board of Ontario) or through stores titled 'Brewers Retail' for beer. The Brewers Retail stores have one door with a large IN on it for dropping off empties and entering and another with a large OUT on it for leaving with beer. The nickname for these stores is in and outs. Some other places (hotels, restaurants) can sell beer for consumption outside of the place. They are nicknamed "in and out privileged". The sign indicates that the place can't sell beer that is not consumed in the place. I'm from Alberta and we think the Ontario way is a hilarious way to sell booze."
* * *
Jeremy Coleman of Manurewa hopes that MasterChef New Zealand has none of the questionable attributes of MasterChef Australia. "It has taken the original English concept and turned it into a programme perhaps more appropriately titled 'Big Brother Survivor, Kitchen Warehouse'. It has very little to do with food and everything to do with the lame premise of survival under extreme pressure and the whims of fellow competitors."
* * *
Another reader writes: "I am a fan of Masterchef Australia, but watch it only because I have MySky and can fast-forward through the constant recaps that form 70 per cent of the show."
* * *
Two Italian girls were threatened with legal action by supermarket giant Tesco - for squeezing a muffin. The two 17-year-olds were shocked and distressed after being stopped by security staff outside Tesco in Exeter. They were escorted back inside, led to a basement room where they were questioned and told they had committed a "food contamination" offence. The teenagers, on an English language course, selected a muffin using their hands rather than tongs. The girls were given pre-printed advice of potential criminal action, a recommendation they seek legal advice and the number of a London lawyer. (Source: This is Exeter.co.uk)
* * *
A reader writes: "Lord Rutherford might be surprised to know that his Nobel Prize laboratory work in nuclear physics is regarded as 'manual work' in insurance circles. My son, who is about to start a postgraduate degree in electronic engineering at Cambridge University, applied for additional medical insurance cover from Southern Cross Travel Insurance when working in the laboratory. Some of the work might also involve the use of lasers (but not the Star Wars kind). Cover was declined with "Unfortunately working in a laboratory, also using lasers is manual work (and is) not accepted. Therefore we (are) unable to offer cover ... I mentioned that using lasers is not an indication of "manual work" or of the imminent danger of vaporisation, as they are used by lecturers with laser pointers, surveyors and civil engineers, doctors (surgeons, dermatologists ) and many others. We now wait to see whether this information persuades those toiling away on their keyboards with their bare hands at the coalface that is Southern Cross Travel Insurance."
* * *
* * *