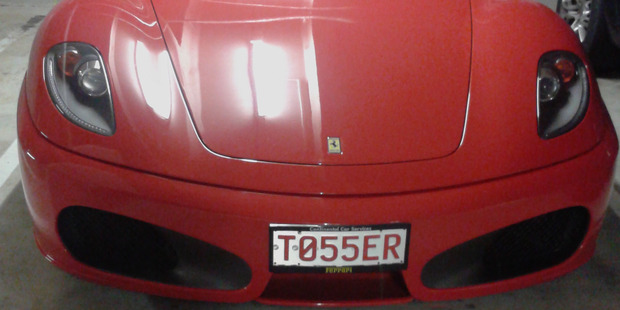 A reader writes: "I have noticed this car around Greenlane a few times." The reader's a little puzzled as to why you'd have such a moniker.
Fudge takes the cake - and the icecream
Conor P. Fudge was caught on video surveillance cameras taking icecream, cakes, and cash from a Cold Stone Creamery outlet in Iowa and charged with burglary. The owner of the business told officers that Fudge, aged 25, used an unauthorised key to enter the business. Fudge hadn't worked at the shop for over a month - apparently not long enough to forget how good the icecream is. (Source: Time Newsfeed)
Apple rises to the top
Apple has bumped Coca-Cola as the world's most valuable brand, reports the LA Times. In its latest rankings, brand consulting firm Interbrand estimated the worth of Apple's brand to be US$98.3 billion ($119 billion), up 28 per cent from the year before. Coca-Cola's brand worth also rose, 2 per cent on the year before to US$79.2 billion. The top 10 also include Google (No2, worth US$93.2 billion), McDonald's (No7, worth US$42 billion) and Toyota (No10, worth US$35.3 billion).
Those rising quickly include Facebook, Amazon and Prada and those losing ground include Nokia, Nintendo and MTV.
You say potato, I say 'and tomato'
A plant that produces both potatoes and tomatoes has been launched in Britain. The TomTato can grow more than 500 sweet cherry tomatoes while producing white potatoes. Horticultural mail order company Thompson & Morgan, which is selling the plants for $20.24 each, said the hybrid plants were individually hand-crafted and not a product of genetic engineering. Grafted potato-tomato plants have been produced in the UK, but Thompson & Morgan says this is the first time they have been successfully produced commercially. (Source: The Independent.co.uk)
On a different wavelength
Client: "I don't like the type."
Me: "What don't you like."
Client: "I don't like how it goes all to one side."
Me: "You mean ranged left."
Client: "Yes, yes, arranged left."
Me: "How do you want it?"
Client: "To be the same on both sides."
Me: "Justified?"
Client: "I don't have to justify anything for you. I own the bloody company."
Dangers for the uninsured
A reader writes: "This is a sentence out of a letter from an insurance salesman, telling us what would happen if we didn't have life insurance and my partner or I died: 'This will have a defecating impact on your way of living'."
Picture this: Male underwear models are replaced by more realistic body types...
Picture this: This guy likes to photobomb couples who are pashing in public. So much so, he made this blog about it...
Back then: Ripped, fake tanned bodies and 80s fashion...body building gloriousness...
Video: Anna Guy releases a music video...
Got a Sideswipe? Send your pictures, links and anecdotes to Ana at ana.samways@nzherald.co.nz