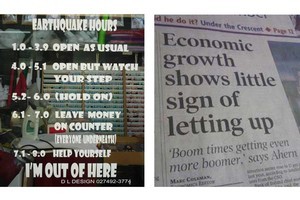 Photo, left: A shop in New Brighton, Christchurch, shows there's still humour amid the shaking. (Photo supplied by Aidan Gutteridge via Facebook)
Photo, right: With apparent illiterates in charge, no wonder Ireland's economy went from tiger to dead cat in a couple of years.
Cog-wheel cucumber hunt
Dawn writes: "When I first moved out of home, I spent a lot of time looking in fruit and vege shops for 'cog-wheel cucumbers', without success. I was bemoaning my lack of luck to my mother and she asked what I meant. 'You know,' I said, 'The cog-wheel cucumbers you always put into your salads.' When she finished laughing, she told me she scored the sides of the cucumber with a fork to create the 'cog-wheel' design!"
Helpful Harry
"I was amazed on Thursday night at the ignorant guy in the zoo car park who stood right next to my car for 10 minutes while I started to change my flat tyre, chatting away on his mobile," writes Rio.
"Happily, a guy named Harry, who was in the middle of his training for a 45km marathon, stopped to help. So a big thank you to Harry and all like-minded, considerate folk!"
What we believed as kids
1. "When I was about 6 in Wanganui my 8-year-old twin brothers told me if you did a belly flop into the pool your skin would split up the middle and peel right off your body and your whole insides would be exposed. Despite being a doctor now, and understanding the physical impossibility completely, it still crosses my mind every time I see someone on a diving board."
2. "In the 1950s my grandparents lived in Ellerslie with a great view of One Tree Hill. When I went to stay with them they told me my grandfather turned on the lights up there. Sure enough, before sunset most nights my grandfather disappeared. A couple of times he arrived back before the lights came on which created a suspicion. I noticed he always brought home a gift in a brown paper bag and I eventually managed to sneak a look. Ah-ha - he was not getting any further than the Ellerslie Pub and had picked up supplies."
Crossword cleverness
A reader writes: "A most controversial puzzle appeared in the New York Times on election day in 1996. The clue to the middle answer across the grid was 'Lead story in tomorrow's newspaper'. The answer appeared to be CLINTON ELECTED. But because of intentional ambiguity in the clues the answer could also have been BOB DOLE ELECTED. As soon as it appeared, the editor's telephone started ringing. Most said, 'how dare you presume Clinton will win!' while the people who filled in BOB DOLE thought we'd made a big mistake!"