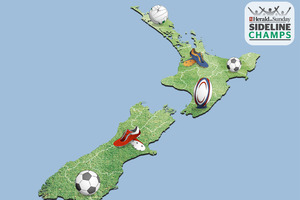 Would you like to write your own match report on your kids' Saturday morning sports game? You can - with the new Rate my Game application.
Rate my Game allows you to quickly and easily file a match report on any game, big or small. You can send it live from the sideline on your smartphone, or when you get home to your computer.
Just click on the "Submit a report" button above the map, and then tell us about the game you're watching. Where is it? What code? Which teams are playing? Who's put in a starring performance? How are the mums and dads on the sideline - are they supportive, or are they ugly fans?
Most importantly, you can rate the game by giving the sideline behaviour a big thumbs up.
The Herald on Sunday will celebrate New Zealand's Sideline Champs by running some of the best match reports from around the country in the newspaper each week.
It's your chance to be a published sports writer but, more importantly, it's a chance for all of us to celebrate the best of grassroots sport around the country.
Rate my Game will collate all the reports, showing which teams and their supporters are setting an example as good sports, and which are not.
The Herald on Sunday has launched a far-reaching campaign to support good behaviour on the sidelines of sports fields and courts, and to back the work being done in the big winter sports codes - rugby, league, netball, football, hockey and basketball - to combat increasing numbers of "ugly" fans.
The paper has published a Sideline Code, encouraging supporters to cheer loud, cheer fair and cheer proud. You can pledge your support for the code, and to do your bit to help New Zealanders enjoy and excel at their sports.
Ambassadors including injured All Black star Richard Kahui, Silver Fern captain Casey Kopua, league's Manu "The Beast" Vatuvei and World Cup soccer star Ivan Vicelich are all joining the call for sideline supporters to set an example to kids.
Herald on Sunday editor Bryce Johns asks: "Are you a parent your children can be proud of? Sideline Champs will make sure you are."
If you see remarkable behaviour on the sidelines this winter - good or bad - please get in touch by phoning 09-3739340 or emailing news@hos.co.nz