Want a break from the kids on your family holiday? Danielle Wright discovers kids clubs in Fiji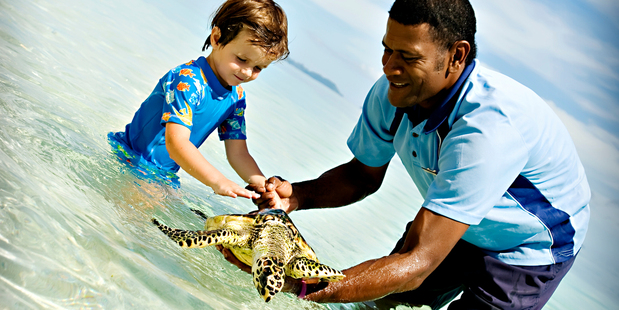 Sometimes, a holiday with kids is more tiring than staying at home. Not to mention still having to struggle with huge piles of washing. But, if you holiday in a place renowned for its family-friendliness and kids' clubs, you'll be surprised how relaxing a family holiday can be.
Driving through town to Fiji's resort suburb of Denarau at rush hour on our first day, we pass groups of children holding hands ringing-a-rosy, and others playing rugby with older kids. Bringing up children in Fiji is a hands-on, communal experience.
The lack of fences around properties points to that sense of community, and we find even the most imposing figures dressed in grass skirts and holding spears are melted by the presence of little people.
"It's part of our nature," says Mila, a Fijian nanny from Vomo Island Resort's Kids Club. "The care of children in Fiji is for the extended family and not just the responsibility of the parents."
"We love the kids who come to our club," she tells me. "They are the only ones we have on the island and remind us of children back home in our villages. It helps us not miss them so much."
Vomo Island Resort has a purpose-built kids' club with the look and feel of a very good daycare centre: educational, child-centred and with colourful pictures on every wall. Toys are plentiful, there's a room for afternoon movie sessions out of the sun, a dress-up box and the chance to do activities such as cooking classes.
Many of the resorts, such as the Fiji Beach Resort & Spa, managed by Hilton, started life as resorts for couples but are now adapting to suit their many family guests.
Rodney Samuels, Director of Operations at the Fiji Beach Resort & Spa says: "We're starting a children's concierge at the end of the year. Families will send us a shopping list for inclusion in their room on arrival, stopping them having to pack groceries."
The resort is set out with large rooms ideal for family gatherings - there are barbecues on decks overlooking the beach, in-room laundries, good coffee machines and even sandwich presses to help families provide snacks at any time.
There's also a complimentary buffet service for children at the onsite kids' club, where bowls of steamed vegetables, spaghetti, hot chips, sausages and chicken nuggets are available, as well as fruit salad, sponge cake and chocolate brownies. Afterwards, kids can watch a movie while parents go to one of the bars or restaurants for a quick meal.
It's packed on the night we visit. Families watch frogs hop past on the grass and lizards climb up the walls; the kids are entranced by the wildlife almost as much as the blow-up coconut tree and playground full of toys, climbing frames and forts.
At Fijian kids' clubs, kids are boss and Samuels says: "The biggest challenge for our nannies is to understand things may not be allowed, such as an extra bowl of ice cream.n Visiting a club is a bit like going to grandma's house."
The kids' club nannies take part in two-day courses run by the Red Cross. They advise guests check with resorts in case they have bulky items like prams available for rent, saving hassle at the airport. Apply sunscreen to your child before you drop them off at a club, take a hat for them, and tell staff of any allergies.
Outside the kids' clubs, there are lots of child-friendly things to do in Fiji. Try out the Spa for Kids options, such as hair braiding and facials. If you'd like to tip, kids clothes, books and shoes are as welcome as cash.
And if you're a helicopter parent like me, reluctant to leave your children, it's good to know you're welcome to stay and play with your kids at the clubs too.


Bula bambinos
• Highly recommended for families is the Fiji Beach Resort & Spa, fijibeachresortbyhilton.com
• For a more intimate kids club experience try Vomo Island Resort, vomofiji.com
• Take the Yasawa Flyer Catamaran from Port Denarau to the islands, South Sea Cruises, ssc.com.fj
• Air Pacific will soon be Fiji Airways. We were impressed by the cleanliness of the planes, the service and the in-flight entertainment, fijiairways.com
• Dani Wright travelled with assistance of Fiji Tourism. Find out more at fiji.travel