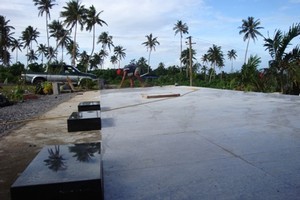 LALOMANU - Little Mana sits on her great grandfathers grave at Lalomanu, above the village, on a mountain overlooking the island of Nuutele.
Her hair is blowing in the wind and her giggle is contagious, sitting next to her is her grandfather Sili Taufua.
"Granpa, granpa look," She shouts as she points out a curious stone next to the grave.
Sili looks at her and smiles.
Next to the grave of Silis father are a row of eight graves, the immediate relatives of Sili.
"The rest of the family are buried in the village," Sili said.
All 13 of the Taufua family died in the tsunami last year, they suffered the greatest loss of life to a family.
Sili is a quiet man, speaking a few but meaningful words. He looks down at his hands often, as if looking for answers.
"It's going to be a sad day," he said about today.
The Taufua family has opted for a private ceremony in the mountains for the 8 members of the immediate family who died.
Sili says there will be tears.
"But it won't all be about the loss, we have grown from it too," Sili said.
He said the anniversary of the tsunami will not only be a tribute to those who passed, but it will celebrate the resilience of those who survived.
"We have rebuilt our lives in the last year and we are proud of what we have achieved," Sili said.
There is nothing that can ease the pain of losing loved ones in the tsunami according to Sili, but rebuilding amid the grief and the destruction is a testament to the survival spirit of the Taufua family and the people of Lalomanu.
The family will unveil the headstones of the nine graves on the 29th, making it the final touches to the graves of those whose lives were tragically lost this day last year.