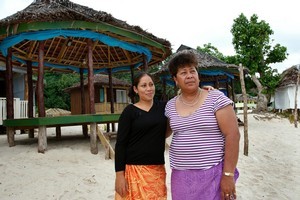 Salamasina Taufua is afraid of the tsunami anniversary. She's frightened by the thought of a ceremony to mark the final resting place of all three of her children.
"I'm very scared, especially as we will be unveiling the kids' headstones ... I'm scared that that's when I know they are really gone."
The 28-year-old was playing with her children - Jesasa, 6, Wena, 3, and 8-month-old EJ - at the Taufua beach resort in Lalomanu when the tidal wave hit.
All three children were swept away, the force of the water tearing baby EJ out of her arms. She was lucky to survive and spent weeks in hospital recuperating.
"He just slipped out of my hands," she told the Herald at the time. "I felt nothing after that. I only felt death. Death was coming and that was all I could feel."
But she grabbed a floating car door and battled waves and debris for about 45 minutes until she became wedged between the posts of a house roof.
Fourteen members of the Taufua family died in the tsunami. They are buried together in a family plot.
For Salamasina Taufua , life lost its meaning. She travelled through Australia and New Zealand to escape her grief, before realising that she had to return.
"All that time, I was scared. I felt useless. But we came back to rebuild our lives where the memories of our children are, here on our family land."
So she and her husband, Edmund, rebuilt tourist accommodation on their family land. What was once the Taufua Beach Bungalows is now Wena Beach Fales, named after their daughter.
"Doing this is part of the healing process. Building this has helped us carry on with life," she said. "I can imagine the children playing here, running around I can see them having fun."
She says business has boomed since opening in April and all the fales are booked for the anniversary this week.
While she is afraid of the occasion, she knows the commemoration of her children will help.
"The tsunami has changed everything. And it's very sad and hard. We just hope to be happy again. I have to believe in life again. There is a tomorrow. And life goes on."