Agreement raises hopes of ending crisis but Russia's President stands by `right' to intervene.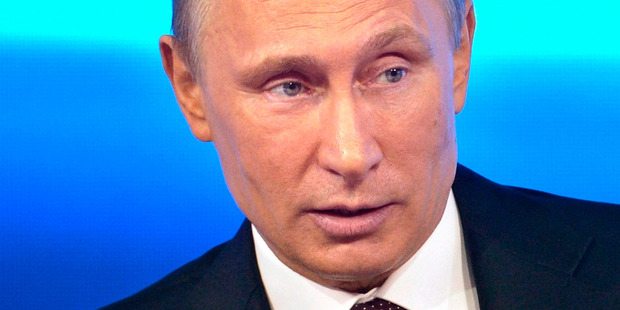 Defeating grim expectations of a failure, talks on the Ukrainian crisis have led to a deal aimed at hauling the region back from the brink, but it will take weeks of work to turn words into facts.
The plan unveiled by Russia, the United States, Ukraine and the European Union at a luxury Geneva hotel was a dramatic counter-point on a day which echoed to the drumbeat of new threats from the Kremlin and warnings from the West of a fresh volley of sanctions.
Their statement indirectly provides for the disarming of pro-Russian separatists who stoked fears Russia would seize parts of eastern Ukraine and for ethnic Russian Ukrainians to be given a voice in the drafting of the country's constitution.
All sides pledged to "refrain from any violence, intimidation or provocative actions" under the deal, which will be monitored by the Organisation for Security and Co-operation in Europe (OCSE), a 57-nation group that includes Russia.
"All illegal armed groups must be disarmed", all illegally occupied buildings and streets must be vacated, and anti-government protesters will be amnestied, it said.
Ukraine's constitution will be revised in a process of "broad national dialogue" that would be "inclusive, transparent and accountable".
The deal came just hours after Russian President Vladimir Putin declared he stood by his "right" to intervene militarily in Ukraine to protect ethnic Russians threatened by the revolution that ousted President Viktor Yanukovych. Putin reiterated Russia's belief it was legitimate to defend its interests beyond its borders and denounced Nato's eastwards expansion after former Soviet satellites joined the alliance.
The United States says tens of thousands of Russian troops have been deployed on Ukraine's eastern border, and armed pro-Russian groups which seized public buildings in several cities have been orchestrated by the Kremlin - a crude scenario used as the pretext to annex the Crimean peninsula last month. Russia denies any involvement.
The agreement does not specifically address three big obstacles - the removal of Russian troops on Ukraine's border, Russia's refusal to have direct talks with the interim government in Kiev and the annexation of Crimea - and faces many challenges on the ground.
"Over the next few days, over the course of this weekend and the earliest part of next week, some of these steps have to be seen and be evident," US Secretary of State John Kerry said. "None of us leaves here with a sense that the job is done because of words on a paper."
President Barack Obama, speaking in Washington later, emphasised this caution. "I don't think we can be sure of anything at this point. I think there is the possibility, the prospect, that the diplomacy may de-escalate the situation," he said, and reiterated the threat of further sanctions: "We have put in place additional consequences that we can impose on the Russians if we do not see actual improvement of the situation."
The US and EU have targeted several dozen members of the Kremlin elite with visa bans, and Washington has also taken action against "crony" banks with assets in the US. The measures were criticised by some as too soft but others say they have usefully applied pressure by damaging Russia's stock market and currency. Analysts point to a long list of steps that will have to be taken to ease tension and restore trust.
Militia groups will have to break up, surrender their weapons and vacate the police stations and municipal buildings where they have hoisted the Russian flag to cheers from supporters in the local population. The Ukrainian Government will have to reassert its authority in areas where pro-Russian agitation has been intense. The OSCE will have to determine the parameters and size of the monitoring mission, and deploy it. Then there is the proposed dialogue over the constitution - who should take part and what it should address, all unfolding in a country that remains in political turmoil and economically on its knees.
"It is going to be messy and it won't be implemented overnight," Fraser Cameron, a former EU adviser and now director of the EU-Russia thinktank, told the Herald.
Even so, Cameron said it was possible Putin had realised he had "nothing to gain" from invasion, possibly after being lobbied by members of the inner circle who had been hit by sanctions or realising that the military option would badly isolate Russia.
That leaves Putin with the option of a weak, non-aligned Ukraine that would be part of Russia's buffer zone.
"[The Russians] can probably live with a weakish independent Ukraine," Cameron said. "They want a pliant Ukraine, they want a Ukraine that wouldn't do anything that really would affect Russian interests, political, economic or military. The big red line is Nato membership and the second big line is EU membership but that is slightly less of a possibility and is not going to happen for many years."