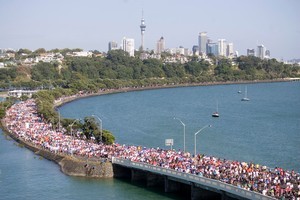 It is New Zealand's largest fun run, and tomorrow Auckland city will swell with up to 70,000 runners from all walks of life. The Weekend Herald caught up with event spokeswoman Sandra King to find out what makes the Ports of Auckland Round the Bays so special.
What makes this such an iconic event?
Round the Bays is New Zealand's largest mass participation sporting event. Participants love the feeling of taking part with family, friends and colleagues, taking in the breathtaking views of the Hauraki Gulf.
The event is known all over the world and attracts many international entrants each year.
It has been around since 1972 and has grown quite a legacy since Auckland Joggers Club, which itself was founded by Arthur Lydiard, first ran it. Arthur was inspired by the "City to Surf" event in Sydney and sought to replicate the event here in Auckland.
The first run attracted 1200 participants and was facilitated by volunteers from the AJC, which it is to this day - more than 100 volunteers from the AJC assist at the event.
Over 39 years it has grown to be one of the world's largest fun-runs, with more than 40,000 registered runners and around 70,000 participants.
The best thing about the run is that anyone can take part?
Absolutely. Ports of Auckland Round the Bays welcomes entrants of all ages and abilities. Last year a 104-year-old woman took part with her family. And of course we have professional athletes who enter.
The route is an achievable distance for runners and walkers - the able-bodied and the physically challenged.
Spanning 8.4km around the city's picturesque waterfront boulevards, Quay St and Tamaki Drive, the course is flat.
For people who haven't seen the Round the Bays run before, how would you describe it?
At the start line, the feeling of nervous excitement in the air is almost tangible. Entrants say there's always a feeling of being part of something great and iconic together.
Thousands of people gather along the side of the course to cheer entrants on.
And of course, the sense of achievement upon crossing the finish line is huge.
Afterwards, of course, we always have a big celebration - many people have a team barbecue at Madills Farm or Glover Park following the event.
And for those who have run individually there is food, music and entertainment in plentiful amounts at the finish line on Vellenoweth Green.
What advice would you offer people competing in Ports of Auckland Round the Bays for the first time?
Give yourself plenty of time on the day - being in a rush can add to your pre-race nerves!
Familiarise yourself with information such as where you can park, how to catch a bus to the start line, etc. All this information can be found at www.roundthebays.co.nz.
If you are booked to attend a celebration after the event, know exactly where to assemble upon completion of the run.
Don't be overwhelmed by the huge crowd at the start. This quickly thins out as people surge forward.
For people reading this today who are not registered, how can they be a part of Ports of Auckland Round the Bays tomorrow?
You can enter tomorrow morning up until 9am. Look for the entry stalls set up at 1 Queen St, on the corner of Tangihua and Quay Sts and at Vellenoweth Green. Entry fee is $10 for children (16 and under) and $15 for adults. Or you can visit www.roundthebays.co.nz.
A huge number of people run it unofficially but by entering they are giving to charity?
Our registered participants not only enjoy the fitness benefits from entering - they are also donating to charity by paying their registration fee. The children's charities benefiting from the proceeds are Kidney Kids, Koru Care and Fairfax First Books.
70,000 runners
8.4km distance
2010 Winners: Nick Buck, 27, won the men's title in 26m 06s in a close battle with Jono Jackson, 19, who ran 26m 18s. Sarah Devoy, 27, was the first woman home in 31m 49s for her second consecutive women's title ahead of Grace Fursdon, 32m 21s.