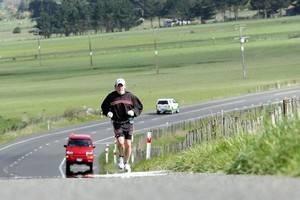 Every time Perry Newburn has put on his running shoes in the past couple of weeks the people of Christchurch have been at the front of his mind.
The 56-year-old, who grew up in the Garden City and now lives in Feilding, begins a 1053km journey today from Aotea Square to the remains of the Christchurch Cathedral.
It's a journey the seasoned runner hopes to complete in 15 days - running an average of 70km a day - as he aims to raise $10 for every kilometre he runs to give a minimum of $10,000 to the Red Cross Earthquake Appeal for Christchurch.
"It's been absolutely devastating watching the scenes from my hometown as I knew it," said Newburn.
"It will never be the same again and that is, for many, a soul-destroying reality."
Newburn spent the first two days after the 6.3 earthquake in shock and then brainstormed about what he could contribute to the cause.
"Once I got my head around it I thought about what I could do and running is what comes naturally to me so I hope that New Zealanders not only get behind me but join me for part of the journey."
Newburn, a former hockey representative, has previously completed three 100-mile (160km) running events and more than 10 ultramarathons.
He recently did a 160km solo run around Lake Taupo, which coincided with the Around the Lake relay, and has no doubt he will make Christchurch on Saturday March 26.
"Every time it is hard or I am in pain and can't get up in the morning I just remember the people of Christchurch and all of the suffering they have had to endure and my pain won't even compare to what they have gone through."
Newburn's good mate Simon Clendon, whom he met in the small, tight-knit ultra-running community, is impressed by his effort.
"You won't find many people willing or able to run the daily distances required for this task," said Clendon, 45, who has been running marathons and ultra-marathons for the past 10 years.
"Running just 70km would blow the mind of your average person on the street, let alone doing it every day for more than two weeks.
"Perry is going to subject his body and mind to punishment that will test him in every way.
"There is something primal to testing your body and mind to the extreme. Most of the time we put our toe on that start line we really don't know if we can actually complete the task we have set ourselves."
Newburn doesn't consider his effort to be anything special but it is just another inspiring act of the Kiwi spirit coming to the fore.
"The magical thing about being a New Zealander has come out of this disaster," he said. "When the chips are down we all stick together and show great character."
Said Clendon: "It has been humbling to see the whole nation swing into action to help the people of Christchurch.
"I believe everyone has the basic humanity to care no matter where they are from and New Zealanders have shown this to be true in our country as well."
Newburn aims to start this morning, heading first from Aotea Square to the Cathedral in Parnell. From there he'll run to Hamilton, Rotorua, Taupo, Levin, Wellington, Picton, Blenheim and on to Christchurch.
It's the people along the way that he expects will make the journey memorable. "It's both amazing and really sad how many people have a connection to this disaster ... I am looking forward to meeting some of them and hearing their stories.
"I hope that the running and walking community of New Zealand will embrace this concept and give generously but also join me in their town."
The idea can't help but stir images of movieland's Forrest Gump running across America.
But the most important thing to Newburn, with company or not, is raising as much money as possible to make a significant contribution.
"The thing I am looking forward to the most is handing over the money we have raised and I know that will make a difference to recovery - the problem is huge but we all need to help."
If you'd like to contribute to Perry Newburn's run for the quake victims you can donate at www.perrysrunforchristchurch.co.nz.