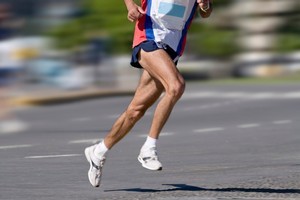 Spain's Alberto Suarez Laso set a world record in the men's T12 marathon to cap off the 10-day IPC athletics world championships at Christchurch yesterday.
Laso clocked two hours, 28 minutes, 10 seconds in windy but coolish weather to win by six minutes over Elkin Alonso Serna Moreno, of Colombia.
There were exciting finishes in the men's T54 marathon where the first seven were within two seconds of each other and in the women's T54 marathon where all three medal-winners were credited with the same time.
Kurt Fearnley, of Australia, prevailed in the men's T54 marathon in 1hr 31min 09sec. Recording the same time but taking silver was Switzerland's Heinz Frei while Japan's Masazumi Soejima was only 0.01secs back in taking bronze.
Japan's Wakako Tsuchida took the women's T54 marathon gold in 1hr 48min 24sec. Switzerland's Sandra Graf finished second and the United States' Amanda McGrory took the bronze with both athletes credited with the same time as the winner.
In the men's T11 marathon, Chile's Cristian Valenzuela took gold in a new championship time of 2hr 41min 04sec.
Mexico's Mario Santillan Hernandez was too quick in the T36 marathon winning in 2hr 30min 59sec.
China, who had the biggest team at the championships, went home with the biggest medal haul - 21 gold, 22 silver and 15 bronze. Russia and Brazil were next.
- NZPA