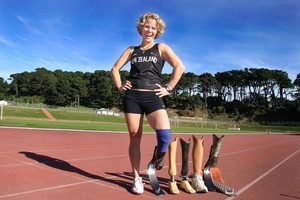 Tim Prendergast and Kate Horan are New Zealand's best medal chances in Christchurch, but they have had very different build-ups.
Both athletes are ranked in the top three in the world - Prendergast is ranked No1 in the T13 1500m and Horan No2 in the T46 200m.
Prendergast, who will compete in the 800m and 1500m (T13), can't wait for the start.
But Horan, a 100m and 200m (T46) sprinter, is hoping for time to heal as she is in doubt with a tear in her hamstring.
"I am extremely excited," said Prendergast who is visually impaired because of a degenerative disease which struck him when he was 8 years old.
"I have represented New Zealand for 13 years and I have loved every minute of it," he says. "I thrive on that pressure."
For Horan, misfortune has struck at the worst possible time.
"It is so devastating," said the 35-year-old of her blighted preparation since running personal best times before Christmas.
"I can't run at all and I have been building up for this world champs for two years.
"I am trying to stay positive and if I can run my base work will carry me through."
Meantime, Prendergast, who won gold at the 2004 Athens Paralympics, is positive about challenging the world's best at home.
"I am in the best possible shape and I am going for gold," said Prendergast, who noted a strong bunch of Kenyans and Moroccans as his rivals.
"I won't be holding back, that is for sure."
The 31-year-old said it was tough being able to see at only 5 per cent of full vision and competing still had its challenges. "Running in a bunch is quite difficult - there is plenty of pushing and shoving - and tactically it can be hard as it takes me a couple of seconds to pick up someone on a break."
The New Zealand team of eight is a mixture of youth and experience and all are thrilled to fly the Kiwi flag.
"We will be competing with a lot of pride and emotion," said team manager Raylene Bates.
"This is a chance to showcase our athletes and sport among the world's best.
"We expect personal best performances from these athletes with an aim to gaining as much experience as possible looking forward to London 2012 and Rio 2016," she added.
"I expect them to enjoy the championships, compete with pride and continue to earn the respect they have gained as high performance athletes."