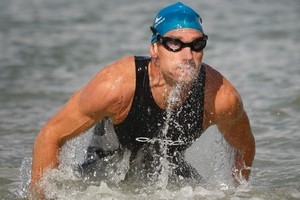 It's been a fixture of Auckland's summer for more than 20 years but the organisers of the annual 2XU stroke and stride series couldn't have imagined an opening to the season like they experienced two weeks ago.
The women's field was midway through their swim when a pod of orca whales gracefully cruised the Waitemata Harbour alongside the race at the Mission Bay beach in East Auckland.
"It was unbelievable and quite awe-inspiring to see the orcas up so close," said Murray McKinnon a long-time supporter of the event.
"They were so beautiful and to be in the water with something so big must have been both scary and enthralling.
"We had some support from the Muriwai Surf Lifesavers and they helped usher the pod of orcas on to Kohimarama with the IRB boats ... but it had everyone talking."
Not that the series needs the arrival of a pod of orcas to make it a talking point.
For the past 21 years, courtesy of the vision of founder and organiser Craig Browne, it has been a popular fortnightly event in Auckland's Eastern Bays.
It regularly attracts more than 500 athletes of varying abilities and this Wednesday is race two of eight in the series.
For the first week (on November 3) the swim leg was 500m followed by a run of 5km.
The champion from the past two seasons Simone Ackermann won the women's field (25m 30s) ahead of Sophie Corbidge (26m 18s).
Meantime Michael Poole (23m 19s) upset Cameron Todd (23m 37s) who was unbeaten last season.
Brent Foster, a 15 time winner of the series, and a world champion in 2008, is not competing this season because he wanted a break.
"I'm still fit enough to compete but after winning the last event last year I felt it was time for something different," said the 43-year-old Foster who recently ran the Auckland half marathon.
"There are plenty of good young guys out there ready to step up."
Fozzie, as he is known to his mates, said he did miss being part of the first event and called his break a probable retirement from the sport he has dominated.
"I have effectively retired but retirement is like marriage - it is a long time ... maybe I will come out at 60 and race again.
"I love this event because it comes down to hard work.
"It is a 20-30 minute race that is a good gauge of your fitness and it's not too taxing in beautiful surroundings - I have nothing but good memories of the stroke and strides over the years."
The distance of the swim increases incrementally throughout the summer over the eight races.
The athletes build up to a 1000m swim and a 4km run at the final event on March 16 in Mission Bay.
"For the top athletes it provides the opportunity to get competitive training in," said McKinnon.
"The races are short and sharp and there are many who have used this series to get ready for bigger things, like the triathlon and ironman."
Elite athletes like Hamish Carter, Bevan Docherty, Cameron Brown, Samantha Warriner and Jo Lawn have competed in the annual series.
For everyone else there is huge satisfaction in competing at all levels.
"For the also-rans it is great recreation after work.
"And there is something special about seeing 500 swimmers lining up for the race - it is an awesome sight."
The series has become iconic with summer in Auckland.
"It has become somewhat of an institution and the vision of Craig [Browne] to create this many years ago has paid off time and time again."
Brent Foster's record
* Out of 20 seasons of stroke and stride, Foster has been the series champion 15 times.
* Up to the end of the last season there had been 163 races staged and Foster has won 69 of them.
* His first win was in 1992 and his last victory was the final race of last season.