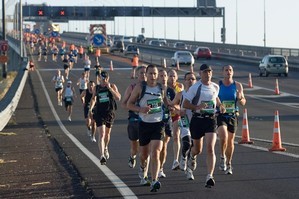 Auckland marathon organisers would back changes to the law to stop profiteers cashing in on the event.
The adidas-sponsored event was sold out in May but people who paid the $119 entry fee have been selling them for much more on the internet.
The first went up on Trade Me within days of the marathon selling out. The entry sold for $525.
The October 31 marathon has 10,000 in the field.
Marathon managing director Stephen Brown said it was difficult to identify scalpers from competitors who had genuine reasons to sell.
Injury and other factors from when entries closed meant some people could not compete and had to sell their entry. Because of that it would be difficult to bar people from transferring or selling their entry.
The Major Events Management Act outlaws scalping of tickets for big events like the Rugby World Cup. But the marathon and other events like rugby tests and concerts do not fall within the act.
It would be good if events the size of the marathon were covered to give organisers some legal power if they felt it was needed, Brown said.
He would like to see people selling tickets at face value.
Most of the Trade Me listings are around the $300 mark and people who buy an entry this way have to pay a $25 fee to transfer it to their name. Ninety-five entries had sold on Trade Me and 12 were listed.