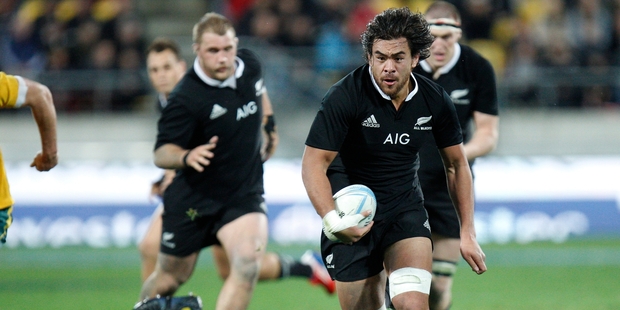 Steven Luatua will leave his kicking boots at home as he eyes his likely role off the bench for the All Blacks this weekend against the Pumas.
The loose forward was the villain turned hero for Auckland in Sunday's 16-all draw with Tasman in the ITM Cup Premiership.
His wonky clearing kick handed Tasman an easy try, but he made up for it with a crucial second-half score, his fourth for the province, in an almost identical spot.
"I'll probably put away the kicking skills and just focus on my coreroles. When I stuck to that, I went all right. Now I understand why kickers are always under pressure. We give them flak for not getting a nice kick away, but in the heat of the moment it's pretty tough," said the 23-year-old, who added real impact and the final try for the All Blacks on the same ground just over a week earlier.
He came through his first 80 minutes in a long time, and but for that one blemish, could feel pleased with his evening's work, making his tackles and clattering into rucks.
This was Luatua's 25th game for Auckland, but the first since 2012.
"It felt good to be back in the blue and white hoops, and good to be wearing my [MAG] school socks," he added.
Though he was unsure where that left him in the All Black frame, it is likely that Liam Messam will again get the nod, despite his handling lapses against the Wallabies at Eden Park, while Jerome Kaino will not be back on deck until next month.
With his Auckland teammates Charlie Faumuina and Charles Piutau, Luatua flew into Napier and Shield Fever yesterday morning and straight into full training.
"I was thinking about that the other night when [Blues teammate] Brendon O'Connor and his boys took the Ranfurly Shield, so to have that and the All Blacks at the same time and the same place should be pretty special."
Auckland coach Paul Feeney loved having his three All Blacks for the full week, and he is likely to get Piutau, who had a mixed game, back later in the week. Faumuina, too, needs to lift his game, as he was not able to dominate the raw Tasman loosehead Siua Halanukonuka at scrum time. Luatua was the best of the trio.
"He had an up-and-down with that kick in the corner, but redeemed himself by scoring. It was good having the All Blacks back, and all three of them added to the team. They also gave our boys confidence, so I'm pleased with their efforts," said Feeney.
He waits to hear from All Black manager Darren Shand - probably by today - whether Piutau will return for the Wellington clash on Saturday.
"We certainly don't count on having him, but if we do, it's a bonus."