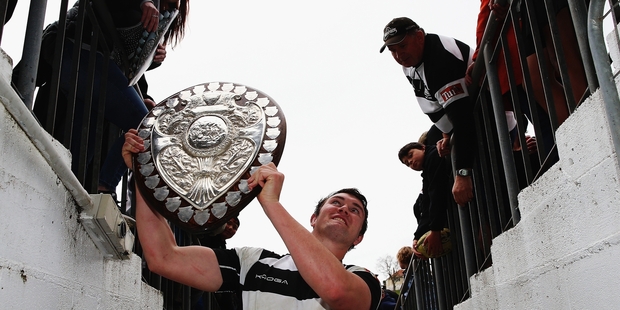 There's obviously a lot of debate about the ITM Cup and its place in New Zealand rugby after the changes that mean there are games on almost every day of the week.
Stepping aside from my role as a Sky commentator, I really enjoy it. When there is a game on a Wednesday or Thursday night, I will sit down and watch it. After playing amateur and professional rugby - I was selected for the All Blacks from the NPC - I think it's an extremely valuable competition. I don't think there is anything in the world which replicates that provincial rivalry.
The competition, and the Ranfurly Shield, is the heart and soul of New Zealand rugby. As a step up from club rugby, it gives club players hope. If you are a good player, ITM Cup coaches are going to select you. That's one of the reasons why we've produced such good players. Not many Super Rugby players or All Blacks play but we're still seeing the talent coming through.
Someone like Israel Dagg, who played for Hawkes Bay in their successful Shield challenge against Counties on Saturday, wouldn't have experienced that before. If he hadn't been slightly out of favour with the All Black selectors he wouldn't have been in that position. Normally players at the top level go overseas, rather than down several levels, so for him it must have been unique.
Regardless of where the game goes, we must retain the provincial championship because it's in our DNA.
Next weekend the Rugby Championship is back. After the opening two tests, it's probably a good time to assess the state of the competition. The All Blacks will be reasonably happy, as will South Africa after their two wins, albeit they have yet to make a mark on the competition. Argentina and Australia, though, are likely to feel demoralised.
The All Blacks' bonus point win over the Wallabies has left their rivals in disarray. Where do they go from here? The Bledisloe Cup has gone - the third test in Brisbane in October is now a dead rubber, so their only goal must be trying to win the Rugby Championship.
Regardless of what they do with Kurtley Beale - and I think they have to try to turn him into a No10 who attacks and defends at first-five rather than going to the wing or fullback - they need to bring back halfback Will Genia.
The sooner they get Genia back the better. They just do not have a threat at halfback. Look at the way Aaron Smith plays and compare it with Nick Phipps and Nic White. They don't provide a running threat and their kicking games are average at best.
Beale has been used in an interesting way. He doesn't defend at first-five. He has an open licence to attack at No10 or No15 - whether that helps with their rhythm, I'm not sure. They've been dealing with this for three or four years - it was the same with Quade Cooper - they're compensating for a player, but is it benefiting the team?
The Boks have been the biggest disappointment for me. I expected them to make a massive statement against the Pumas but they did the opposite. They should have lost in Argentina last weekend. They will be thinking, "Right, we probably aren't as good as we thought we were." They showed a lack of creativity on attack. They tried to be confrontational with Argentina but came off second best.
Argentina must be completely demoralised. They were hugely competitive in South Africa and again last weekend. It's clear they haven't learned how to finish teams off. They now have a couple of tough weeks - tests in New Zealand and Australia and travelling home to face the All Blacks in Buenos Aires. For them their best chance of a win is probably over.