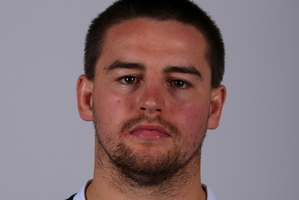 The All Blacks will continue to run with just two hookers in the Rugby Championship having targeted the end of year tour as the time to introduce an untried youngster.
Monday's squad announcement will see Dane Coles and Keven Mealamu named as the only hookers - a decision that will make the latter's calf the country's most important body part since Richie McCaw's broken foot in 2011.
In a perfect world, one of Liam Coltman, Nathan Harris or Rhys Marshall would be in the 31-man squad having already been exposed to test football on last year's European tour and the recent June series.
Finding a young, emerging hooker has been high on the All Black agenda since this time last year when veteran Andrew Hore indicated he would be retiring.
The All Blacks will need three hookers at the World Cup and don't want to arrive in England next year with a player in whom they lack faith.
But as much as the selectors want to develop that third option, they are still not convinced any of them are ready yet.
That wasn't such a problem in November last year as the All Blacks were able to persuade Hore to delay his retirement and back up Coles and Mealamu.
In June the experienced and test-capable Corey Flynn was available and would have been called up if required. The Crusaders' veteran, though, has now joined Toulouse and if Mealamu's notoriously fragile calf blows during the competition, the All Blacks will be exposed at hooker.
They will have no choice but to elevate one of the youngsters, which head coach Steve Hansen is keen to avoid.
Introducing the third hooker off the bench against the USA and Scotland on the end of year tour would be preferable to asking them to front against the Springboks, Wallabies and Pumas.
Throwing an uncapped hooker into battle against Bismarck du Plessis would carry risks. He's a beast and could inflict a fair amount of damage.
Keeping Mealamu fit for the next six tests is imperative. Coles will take on the bulk of the work - but he'll be burned out if he's asked to play 80 minutes six times in eight weeks.
Mealamu will be used as the closer - the experienced set of hands who provides stability, accuracy and dependability in the final 15-20 minutes.
Mealamu limping to the sideline has become a frequent sight in the last 18 months. It is the niggle he can't fix - and not for want of trying.
He has adapted his training to ensure he doesn't overwork himself. And several times now he's come off early when he has felt the muscle tighten, preventing any serious or longer term damage from being inflicted.
He's sick of the attention his calf generates but his lower leg is of national importance.