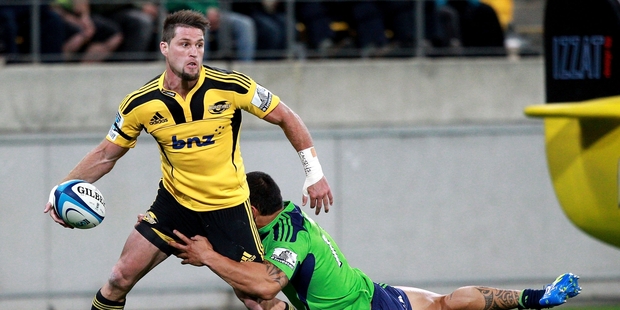 It used to be that New Zealand was no country for old men. Now it seems it is a place only for old men.
The average age of the All Blacks is rising, the number of 30-year-olds contracted in Super Rugby has jumped five-fold in four years and these days players in their early 30s are offered contract extensions without prolonged drama.
Richie McCaw and Dan Carter signed deals that will keep them here until they are 33 and 35 respectively, and last month, 31-year-old Cory Jane was offered a three-year contract extension.
New Zealand, for most of the professional era, has had an infatuation with youth. The emerging have tended to be seen as a better investment than the established, which is why, in 2010, there were only six contracted Super Rugby players older than 30.
This year, there are 25, with significant numbers of those likely to make the All Blacks.
Tony Woodcock, Wyatt Crockett, Keven Mealamu, Ben Franks, Jerome Kaino, Liam Messam, McCaw, Carter, Ma'a Nonu, Conrad Smith and Jane are nearly all considered vital to the national cause.
This sea change in thinking is reflected in the rising average age of the typical All Black starting XV. At the 2011 World Cup, the average age of the team that played in the final was 28.
Going on past history, All Black coach Steve Hansen will, injuries depending, select his most experienced and trusted performers for the first June test this year and the average age could be slightly higher than 28. If, and probably when, Carter and Jane are involved at some stage, the average age of the side could creep up to almost 29. It is not beyond the realm of any imagination that by the World Cup, the average age of the All Black starting team is closer to 30.
In comparison, the 2003 All Black World Cup squad had three 30- somethings: Tana Umaga, Justin Marshall and Dave Hewett. The 2007 squad was similar: Byron Kelleher, Reuben Thorne and Anton Oliver were the only men to have hit 30.
The game here has finally learned that old heads can bring as much as young legs; moreso, that it is possible to get more out of young legs by surrounding them with old heads.
This awakening owes a little to the 2003 World Cup-winning England team. Mocked before the tournament for being too old and slow, they cleaned up in Australia and it was the so-called has-beens Martin Johnson, Jason Leonard, Will Greenwood, Lawrence Dallaglio, Neil Back and Richard Hill that so impressed.
"I think we all probably learned something from that team," says NZRU general manager of professional players Neil Sorensen. "There might be some players who lose a bit of speed as they get older but what our coaching teams reckon is that they more than make up for that with their reading of the game and their decision-making.
"That decision-making is critical. When you look at the 2011 World Cup, we had players making really good decisions in games that maybe we didn't have at the 2007 World Cup."
The All Black failure in 2007 was perhaps the turning point. The conclusion was reached by the New Zealand Rugby Union that what they needed was a more experienced spine, that they couldn't rely exclusively on the energy, pace and dynamism of younger players.
The NZRU set about trying to build that spine by first of all, in 2008, locking Carter and McCaw into long-term contracts.
By keeping those two, other senior players made a similar commitment - Ali Williams, Mils Muliaina, Tony Woodcock, Brad Thorn, Andrew Hore, Conrad Smith and Ma'a Nonu - and by 2011, the All Blacks had that spine they were after.
The message to older players has changed - New Zealand has become a market where they can retain their value for longer. Since 2010, there have been few older players who have departed offshore prematurely, leaving because they sensed they were about to be traded in for a younger model.
"There is a lot of stuff older players bring off the field as well," says Sorensen. "Take the example of Brad Thorn. He's still playing incredibly well and winning his place in the Highlanders but he's also instilling a lot of good values to the younger players around him, giving them a feel for the level of professionalism required."