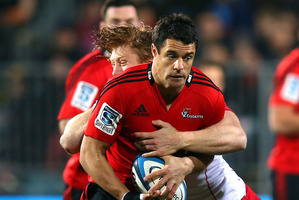 Richie McCaw will probably start next week's semifinal on the bench but his contribution to the Crusaders is expected to be huge as he guides them through one of their biggest weeks of preparation in years.
The All Black skipper made the critical observation after his 15 minutes of action last night that the Crusaders have possibly come up short for too many successive years.
He warned that despite their emphatic performance in despatching the Reds, they can't take anything for granted, regardless of whether they are playing in Pretoria or Hamilton.
"That's the trick of sport," he said when asked if the Crusaders should feel confident about their chances of winning the title. "It's being able to back up a performance like that.
"We have a few players who have had these opportunities before and come up short. The most important thing for us is that we put in our best performance and that comes by preparing as well as we can."
McCaw's thoughts were echoed by Crusaders coach Todd Blackadder, and indeed departing Reds coach Ewen McKenzie, who will now focus exclusively on his new role as Wallaby supremo.
The Crusaders stack as champions elect if they can replicate their physical intensity over the next two weeks. They owned the breakdown and collisions, Luke Romano especially adding an edge of intimidation the Reds couldn't deal with.
Dan Carter was in special form, bringing the best out of a backline that has finally learned its attacking lines and patterns. But just as McCaw said, Blackadder agrees that the key will be finding the mental strength and focus to deliver again.
"I think we have been building momentum well," said Blackadder. "I think last week [against the Hurricanes] was a mind-set thing because we knew we had qualified and I think a few guys were focusing on this week. Our focus will be on recovering well and preparing well."
The bonus for the Crusaders is that they were reporting a clean bill of health but Blackadder couldn't say what his plans were regarding McCaw.
"I'm not in that space right now. He made a contribution when he came on but we probably won't look to make change for the sake of making change."