Promising debut meets Kirwan to-do list for the Blues - carry hard, play hard and keep the workrate up.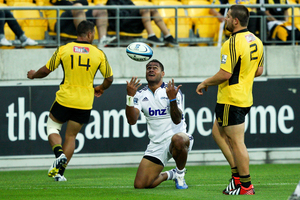 For a speedster, Frank Halai has been a slow burn in rugby. He bumped around in provincial rugby for Counties and Waikato, starred at sevens for Gordon Tietjens but, at almost 25, has just made his Super 15 debut for the Blues.
"I liked playing for Titch but I have looked forward to this level of rugby too," Halai said.
The Tongan-born Halai followed his famous countryman Jonah Lomu through the gates of Wesley College, where he began rugby as a lock but was switched to wing "because I couldn't catch the ball".
His Super 15 debut did not reveal those flaws as he picked up two tries, a yellow card and strong reviews about his first outing, against the Hurricanes.
Tietjens revealed the wing was quiet but, alongside other Blues picks Charles Piutau and Waisake Naholo in the sevens squad, worked hard at his game.
"I saw him start about level 10 in the Beep test and go to level 14. He worked very hard, he was deceptively quick and had endurance and was able to deliver repeated speed and that's when you see the best of him," said Tietjens.
"I was amazed how long I kept him and I hope JK [Kirwan] turns him into a great wing."
Halai expressed himself at the Cake Tin but was shy in front of an inquiring media group.
"I just finished off the moves. It was good, a special moment for me to be part of it," he said.
Kirwan's instructions were simple and crisp - carry hard, play hard and keep the workrate up.
The Blues regrouped for their next challenge, against the Crusaders at Eden Park on Friday, with No8 Peter Saili the only slight concern with a sore Achilles tendon. They were elated about their debut victory but realistic enough to know they will be underdogs against the All Black-laden Crusaders and their reputation.
Kirwan said every area needed to be tightened, especially work around the setpiece.
The Crusaders, with their All Black locks, would attack every lineout and the hosts needed to keep working hard to tighten their scrum.
Kirwan was in contact with Sanzar referees boss Lyndon Bray to check the Blues' compliance with the way officials wanted to interpret the rules this season.
"We want to make sure we are training the boys the right way and we are aware of the trends the refs are looking at. It is just doing my job, making sure all the bases are covered," Kirwan said.
"I think our ball retention and attack play was solid though we need to take the advantage when we create them. We need to work hard on setpiece because that is where it all starts."
Everyone had been told to express themselves through the gameplan, but that came with warnings about sorting out the balance between territory and possession.
"That's a fine line so we need to make sure they have the freedom to go, but we just don't put ourselves under too much pressure," Kirwan continued.
A decent crowd on Friday would be great and Kirwan saw that as a byproduct if the Blues continued their progress.
"We want the fans to be excited and come back and help us win. This should be a fortress and for that to happen we need the place to be full."