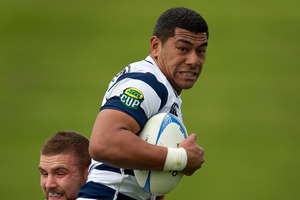 Injured Blues fullback Charles Piutau has shed his moonboot but will not duel with the Waratahs' wunderkind code-hopper Israel Folau this weekend.
Piutau damaged his foot a few weeks ago and while scans and x-rays were clear, the medical staff decided the injury needed some enforced rest.
That inactivity ended yesterday when Piutau stepped out of his moonboot although he is not expected to suit up again until the Blues play the Highlanders in their final trial game in Queenstown on Friday week.
Spectators in Whangarei on Saturday should see young Blues import Marty McKenzie used once more at fullback with Folau likely to play again in that role for the Waratahs.
His first trial match outing drew rave reviews from senior observers including former Wallaby coach Rod Macqueen, who reckoned Folau would fly into the national squad after careers in the NRL and AFL.
While Folau's performance drew widespread acclaim, coach Sir John Kirwan said he had not seen any of the action.
"I'm only concerned in what we are about at this stage," he said yesterday. "These games are about what we want to do."
The Blues travelled to Toowoomba where they lost 35-41 to the Reds in their first hit-out.
"We have a lot to work on but it was nice to get some game time together and work on the direction we want to go. We did enough to show we are on the right track but there is still heaps to work on."
Midfield back Jackson Willison damaged a thigh muscle and will not play this week. However, the Blues hope George Moala will return for the first time since breaking his leg in September and that Liaki Moli is over his hamstring twinge.
Others expected to return to work after missing the opening game are captain Ali Williams, Culum Retallick, Chris Noakes, Rene Ranger and Charlie Faumuina. Halfback Piri Weepu will open his trial work against the Highlanders. Anthony Boric has started contact work at training.