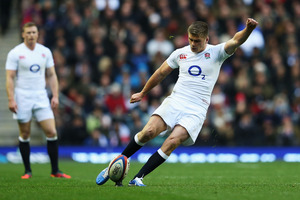 It was hard case stuff, all right. There I was in this column last week asking who the hell is Owen Farrell? - and he showed us who the hell he was.
The original point remains: talented or not, there was no way Farrell should have been nominated for the IRB's world player of the year.
However, his display against the All Blacks last weekend was a bit symbolic of the surprise of that victory.
England played terrifically well and you have to congratulate them but, if you'll allow me a bit of a grizzle, it was only one match.
When was the last time England or any other Six Nations team won 10 tests in a row, for example? I'd suggest you'll be thumbing back through the record books for quite a long time.
I say this not to diss England but to showcase a point made by a friend of mine, former Scottish, and British and Irish Lions fullback Andy Irvine, who suggested having a three-test series.
Instead of the Grand Slam tour, the All Blacks could still go to Europe every year but play England in a three-test series, for example.
They could also play three midweek games. That would give all the dozens of players on tour decent rugby time.
I know the northern tours are all about money but it's getting a bit repetitive, even with that shock victory by England.
You'd still make money and having a different foe every time would still bring in the dollars - and it's a truer test of ability than a one-off test.
Still, you'd have to say the Twickenham crowd were happy ...
I thought the key to England's victory was the front row. Not in the scrum so much, but around the field. I'd say those three did more work in that one game than all the front rowers in all their other tests this year, combined.
They cleaned out, they ran the ball up, they tackled, they scrapped for the ball and really set up the second row and back row to have a go at the All Blacks.
Speaking of the All Blacks, they were really just weary, weren't they? Some people tried to tell me that the game plan was too simple and too easy to read - but it seemed to suit them fine in the past 20 tests or so.
No, they were just worn out. Maybe Conrad Smith shouldn't have played if he was as tired as his remarks before the game about a season that was too long suggested.
Maybe, in hindsight, we should not have played Dan Carter carrying a knock when we now have two good first-fives in reserve. One of them had been in red-hot form the previous week.
Even accepting the team were jaded, that game will cause the All Black selectors to look a bit sideways at some of those who might be starting to show their age - Andrew Hore, Tony Woodcock and I note Keven Mealamu has given up the Blues captaincy to lengthen his time at the top.
Richie McCaw is off on his sabbatical and Adam Thomson is supposed to be off overseas somewhere.
There's no need for panic but there might be some keener gazes now at some young front rowers. Dane Coles and Charlie Faumuina are there at present but both need to pull up their socks - literally in Coles' case.
He didn't look all that comfortable against England's bruising forward play (mind you, he wasn't alone) but he doesn't help things by looking like he's just come in from a skate park.
Ben Franks might have had his last game in a black jersey and brother Owen might be moving closer to being a bench player if he doesn't wake up a bit more. And players like Wellington's Jeffery Toomaga-Allen might figure they have a better chance after this tour.
However, overall, you have to congratulate England and you have to say that test could just have been a very unpleasant, but welcome, wake-up call.