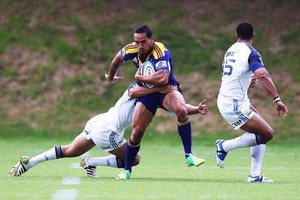 It was not instant attraction when Hosea Gear first met Jamie Joseph. They came together in 2007 when Joseph got involved in the Wellington team, and Gear admitted the ways of the hard-nosed coach were a shock to the system.
"I did not really enjoy it at the start. I thought, 'What the hell is this? I'm not used to this'. But at the end it really brought the best out of me and I have really enjoyed it," Gear said.
"I love his attitude towards the game on the field in terms of training, mind set, his mental attitude and his application towards the game. I seem to benefit a lot from it and I really enjoy it."
So much so that Gear was prepared to shift his family south to come under the wing of Joseph again, and put himself in a Highlanders jersey after eight seasons with the Hurricanes.
"I'm quite familiar with the environment that Jamie wanted to create and had going on down here.
That is a massive part of the Highlanders brand, trying to get everyone involved and making sure the partners are happy as well as the kids.
"I was not sure what to expect down here. I'm just waiting for the cold weather to come through. But the family has settled in really well."
Joseph said he wants his Highlanders - who started well last year but tailed off - to maintain momentum through the 2012 campaign.
"I know last year if we had won the three last games, we would have made the playoffs. So it is a wee bit of a catch-22," Joseph said. "What I know in sport, if you get on a roll you get a confidence that is unfounded. Teams that win the championships have to come back from real challenges. If we are going to be any good at the end of the year we are going to have to keep getting up."
With his family, including baby twins, getting used to Dunedin, Gear now switches focus to what he is paid to do - scoring tries and helping his team win games.
"I'm still looking to grow as a player. I still believe I can get even better. That is something I am searching for and striving for.
"If I could try and get my hands on the ball and get into that line a little bit more. Just try and create a little bit more space for those around me."
Being in a new team, of course, creates challenges and that is not helped by a raft of injuries to players inside Gear.
But the big winger, who has played eight tests for the All Blacks since 2008, is relaxed about the coming and goings inside him.
"The positive thing is we are building depth as well. Injuries you can't really control. You have to deal with it and try and make do with what you have got. That is what we have done. I'm quite happy with the boys we have got out there.
"I'm getting used to how the midfield combination plays and vice- versa. I'm getting in their ear as much as possible, just trying to build that combination and relationship as well."
He knows he will be a marked man tomorrow night against the Chiefs in Hamilton, but Gear is keen to get on the field and start playing after all the hard yards on the training paddock.
"I can't wait actually, really looking forward to it. It's been a bit of a long pre-season and I really want to get into it," he said. "I think we've all had enough of pre-season and just want to get out there and play."