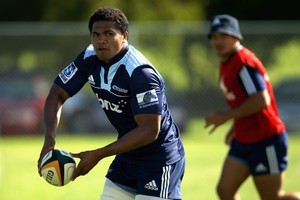 The names are standouts on the Blues' honours board - Zinzan Brooke, Michael Jones and Xavier Rush.
They excelled in the No 8 jersey, they were the glue for much of the side's early prosperity. They were familiar faces, players the coaches relied on.
But since then selections for the role have been transitory. Coaches have used Angus MacDonald, Nick Williams, Jerome Kaino, Viliame Ma'afu and this season Chris Lowrey and Peter Saili.
None has really nailed the job, none has grabbed the No 8 jersey from the peg and held on to it.
Lowrey started the first two matches this season, Saili got the next against the Lions in Johannesburg but was concussed. If there is such a thing as a fortunate injury that was it.
He missed the Blues' poor work against the Force and was reinstated against the Hurricanes. Like the Blues, Saili is determined to stop the yo-yo chart.
"I thought the performance was coming last week. We got a bit quiet at times but we have to get it sorted again for the Chiefs this weekend," he said.
"They have some great loosies who are fast and love to attack the breakdown so we will have to be on our game. We need another win. We know everyone hits us up about our results and we know we have to back it up. That is our huge point this week, get a win and keep it going."
Saili said his father was usually on his case, while he tried to soak up as much information as he could glean from the older players in the Blues. He was in a tough duel with Lowrey for the No 8 role and was determined to make his chances count.
"I have to learn all sorts of things like taking charge, sticking to routines and learning to be a professional rugby player," Saili said.
He had fully recovered from his first concussion when he was knocked out against the Lions. He remembered waking up in a bit of a panic and feeling slightly claustrophobic because the medical staff had covered his ears to block out the crowd noise.
"Apparently I woke up and wanted to carry on but wisely, they took me off. I was a bit lightheaded for a while and had a sore neck and was annoyed I did not play the next game against the Force.
"But it may have been a blessing."
The 21-year-old has fielded inquiries to see if he would switch allegiance to Samoa but it is way too early for a decision. Born in Auckland and educated at St Peter's College, Saili has claimed the black jersey at schoolboy and global under-age tournaments.
That is a start, now he has to make his mark in Super Rugby.