Lanky No8 influential force in pre-professional English rugby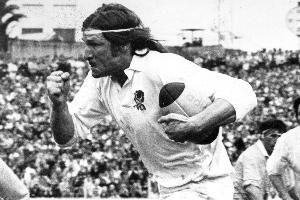 Andy Ripley, rugby player. Died aged 62.
Ripley, an international No8 forward was a giant man in several ways and one of the most colourful personalities in English rugby.
Described variously as "rugby's first hippie" and "the original Crazy Horse" he excelled not only at rugby, but also rowing, athletics, swimming and sailing. He also made a small fortune in the City of London and, aged 50, gained an masters degree in philosophy at Cambridge University.
A gangling 1.95m tall, with flowing locks streaming from his headband, knees pumping almost to his chest and the ball under his arm, he was a rare sight.
As one writer observed, "Ripley in full flight will remain forever an image to brighten the day." Another wrote: "He played with the studied nonchalance of a Harlem Globetrotter warming up."
Ripley won 24 caps for England between 1972 and 1976. One of these was a 16-10 victory against New Zealand in Auckland in 1973, during a curious four-match tour (one test).
The tour was a hasty event organised after the then Prime Minister Norman Kirk called on NZRFU to defer a scheduled Springbok tour until South Africa's teams were selected through mixed trials. Kirk's letter referred to the disruption, disorder and violence that such a tour might create.
This English win, it may be recalled, followed the 1971 Lions test series win in New Zealand.
Ripley lost his first six Five Nations matches but nevertheless played a prominent part in England's surprising wins in South Africa and New Zealand. In 1974 he scored the winning try in England's first victory against Wales at Twickenham since 1960. Later that year he toured with the British Lions to South Africa, where they were unbeaten in 22 matches and won the test series 3-0.
In 1976, he lost his England place, "being jettisoned at his peak", said the official history of the Rugby Football Union. In fact, he faced unusually brilliant competition including Roger Uttley, who captained the England side and starred with the Lions. Ripley had revenge of a sort many years later, beating Uttley to the world veterans' indoor rowing championship in 1992.
Ripley was also a champion triathlete, a qualified canoe instructor and skilled at basketball, tennis and water-skiing.
Although rugby union did not go professional until 1995, six years after Ripley retired, he lived in the twilight era of "shamateurism", when players were rewarded in secret.
Once the England team were persuaded to wear a sponsor's boot in return for £50 a man - a transaction of which the RFU was wholly unaware.
Ripley also once found himself with two boot sponsors to please - a problem he resolved by wearing a different brand on each foot.
Andrew George Ripley started rugby only at university aged 19, after school soccer. He played rugby for the Rosslyn Park club until he was 41.
He died of prostate cancer and is survived by his wife and three children. Staff reporter, Daily Telegraph