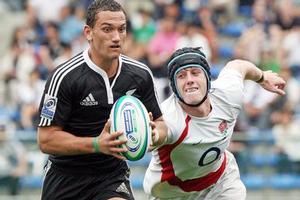 The Air New Zealand Cup – the last one with 14 teams – starts on Thursday with motivation provided by the competition shrinking to 10 teams. But, as Paul Lewis writes, there are other considerations for a band of at least 15 players and probably a great many more.
There's this thing called the 2011 World Cup. While still two years away, the journey twards the elusive prize starts this year, according to All Black coach Graham Henry.
Which means that the country's most maligned rugby competition, the Air NZ Cup, will act as a springboard for any new players - and some not so new - eager to force their way into World Cup calculations.
At present, the All Blacks have some well-publicised holes in their depth in key positions.
Principal among those are first five-eighths, prop, openside flanker, wing, and maybe fullback.
Well, if Mils Muliaina was to be injured now, Cory Jane shapes as the only experienced option along with perhaps Isaia Toeava.
So anyone desiring to push their name on to the sheet of paper on Henry's clipboard has to start their journey this week.
They have to do well enough in the Air NZ Cup to put themselves into a good position for selection in a Super 15 team next year and will likely have to do well at that level before Henry and co will even look at them.
It's a long journey, as John Mitchell would say. Henry, with all the players he has used in recent times, won't necessarily be looking for 'bolters' but opportunities exist in the lack-of-depth areas.
So we have chosen 15 possibles - that being a relevant number in rugby - who will want to do well this year to promote any chances of higher honours.
No one is suggesting that all or any of these players will be All Blacks; simply that a chance exists in their position to press their claims for 2011 (or thereafter when retirements and overseas destinations can be expected).
FIRST FIVE-EIGHTHS
On the same weekend Daniel Carter began his comeback by playing club rugby in Christchurch, there is speculation that North Harbour's Nick Evans is one of the players the All Black coaches have their eye on as Carter's back-up for the 2011 World Cup.
Smart move, if so. Evans has been missed and the debate over Stephen Donald and Luke McAlister for the No 10 shirt means most of New Zealand is still uncertain who is the best local bet to replace him should Carter be ruled out again.
Aaron Cruden
(Manawatu)
The heroic first-five from Palmerston North Boys' High School – who beat cancer to play a starring role in the New Zealand under-20 world championship campaign this year - has obvious class.
The anxiety around the 10 position reached its peak when some well-meaning souls even called for Cruden to be rushed into the All Black squad this year. They need to go and have a cup of tea, a lie-down and listen to whale music.
Promoting Cruden too fast would be a sin and the last thing the young player needs. The ifyou're- goodenough-you'reold-enough brigade need to do what the rest of us will be doing - watch Cruden play in a Manawatu team that seems destined for a tough season.
Picked by many to be one of the four unions that tumbles into the inaptly-named Division One next year, thereby reducing the Air NZ Cup competition to 10 teams, Manawatu seem likely to give Cruden a fair bit of tackling practice and raise his experience in being under pressure.
Cruden may be an outside chance for the end of season tour to Europe this year but don't put any money on it. His next selection poser might be which union he joins if Manawatu are ousted from the top shelf.
Wellington and the Hurricanes is probably the favourite destination but even there, Cruden will likely have to battle it out with Willie Ripia and two sons of famous fathers, Daniel Kirkpatrick and Michael Hobbs.
Colin Slade
(Canterbury)
Graham Henry was right. It's plain daft that Carter, Stephen Brett and Slade should all be resident in the same union when the country has about as many class first-fives as Clayton Weatherston has friends. In the unlikely event that Slade gets a decent number of games at 10, this could be the year he usurps Brett in the Canterbury-Crusaders-All Black pecking order.
Still only 21, he was good enough to play on the wing last season for the Crusaders and to impress with his defence, aerial skills and kicking. He punts the ball with both feet, has built his running skills and is a goalkicker growing in confidence. A real comer.
Daniel Bowden
(Auckland)
An Aucklander who made his name so far with the Highlanders, Bowden has come home following the departure of Jimmy Gopperth to Newcastle – leaving an obvious opportunity in the Blues. It is stretching it to talk of Bowden in national terms yet but there is no doubt the 24-year-old has a future. He is a talented goalkicker, a good kicking game from the hand and, perhaps his best asset, can be a talented runner in broken play.
He already has experience in this competition, with both Northland and Otago, and his 17 games and 70 points for the Highlanders mean he is one to watch this year.
Ben Botica
(North Harbour)
Still only 19, the son of former All Black Frano Botica is even further away from any kind of national interest in his debut season. He doesn't even have a lock on the 10 jersey, as Mike Harris - another, like Cruden, to have come through the New Zealand age-group system – is competing for the spot after Gopperth's departure.
However, Botica has a fine kicking game and is apparently a highly reliable goalkicker. His ability at higher levels has yet to be proved but some North Harbour judges say he has a fine future.
OPENSIDE FLANKERS
This will be the shortest list in this piece. Hard to get shorter than one, really, underlining the dearth of quality loose forwards who can back up Richie McCaw. Tanerau Latimer has the back-up spot at present, while Adam Thomson is injured.
Canterbury's George Whitelock is already an All Black (and who would have predicted that this time last year?) and Scott Waldrom, who went on the 2008 end of year tour, will be back for Taranaki in this competition.
Luke Braid
(Bay of Plenty)
Bigger than older brother Dan, Braid has already impressed as a flanker with pace, strong defence and a growing ability to snaffle ball. He is also a powerful runner. Braid is just 20 but may get more starts with Steamers' team-mate Latimer more involved with the All Black camp this year. He has been a member of world champion under-19 and under- 20 sides and was named IRB junior player of the year last year.
Knowledgeable observers say, while Braid might not be in the top rungs yet, that is where he is headed and that he also has a natural ball player's instincts.
PROPS
James McGougan
(Bay of Plenty)
Tighthead prop for the Chiefs this year, McGougan had a fine debut season and was one of the finds of the season for the Chiefs and over the whole Super 14. He's only 24 and, at 122kg and 1.83m, is no pygmy. He has an aggressive streak, can get about the field well and shapes as a prospect.
The only thing he should be worried about is that tighthead prop, unless your name is Neemia Tialata, has been quite a revolving door in the All Blacks in recent seasons.
Ben Afeakai
(North Harbour)
He's big (130kgplus, 1.93m), he's fast - he runs highly respectable 1500m and 400m times - is a bruising ball carrier and he also has a fine age-group record. He was picked out previously as a prospect but injuries hit him last year. Still only 21, he is recovered this year and will be hoping for a good showing.
Rodney Ah You
(Canterbury)
A member of this year's world champion under – 20 team, Ah You is another promising tighthead. Props at this age rarely prosper at top level, although new All Black Owen Franks is only 21 and there seem to be high hopes for him.
Another to watch.
WINGS
Zac Guildford
(Hawke's Bay)
Can also play fullback to a high level, which automatically makes him interesting to any squad selector.
Has speed, a good kicking game and starred in the under-20 world champion team this year. Has Super 14 experience with the Hurricanes. A try-scorer.
Rene Ranger
(Northland)
One of the few successes in a not-very-successful year for the Blues, 22-year-old Ranger built on the promise he showed in the Northland jersey last year. At times the best player for the Blues, his work rate was good and he is an exciting runner and a crunching tackler – but may not yet have the aerial skills and kicking game this All Black panel prefer. Auckland seems a likely destination if Northland drop a division.
Jared Payne
(Northland)
His pace and try-scoring ability came to notice in this year's Super 14 for the Crusaders - although injuries shortened his season. He is 23, quick and has a good try-scoring instinct. With Ranger, he will give Northland some punch out wide if they can get ball to them. Can also play fullback.
Canterbury a possible home if Northland go down.
Tim Mikkelson
(Waikato)
New Zealand sevens representative and a leggy, almost languid running style disguises pace and elusiveness.
The 22-year-old scored a sizzling try as Waikato embarrassed Auckland last year.
Tu Umaga-Marshall
(Canterbury)
Tana's nephew, this big winger may prosper after switching from Wellington (where he was behind Hosea Gear and David Smith, himself a prospect if he cleans up aspects of his game). Umaga-Marshall can play fullback and centre so is another utility possibility. Now 26, he is still quick and played NBL basketball in New Zealand as well as being a triallist for the Brisbane Broncos.
FULLBACK
Israel Dagg
(Hawke's Bay)
Another who could win the vote as rookie of the year in the 2009 Super 14.
Dagg, just 21, was the Highlanders' player of the season in Super 14, along with Adam Thomson - scoring tries, defending stoutly and with good positioning and kicking. A high work rate and good prospects.
Paul Williams
(Auckland)
Perhaps a little unlucky to lose the back-up winger- fullback spot in the All Blacks to Cory Jane but the Wellington man has certainly taken his chance well. Williams is 26, a fine attacker, can kick goals and can be a bruising defender.
May need to pick up his aerial and kicking skills further but a physical and cool-headed player.
RATING THE REGIONS
Rankings based on Herald on Sunday's assessment of the provincial unions' performance against the NZRU criteria.
* Population (10 per cent).
* Community Rugby (25 per cent) - player, referee and coach registrations.
* Playing History (20 per cent) - finishing position.
* Player Development (15 per cent) - academy performance and players
* selected in Super Rugby and national teams.
* Financial Position and Performance (30 per cent).
* All of the criteria are averaged over four years (2006-09).
SECURE
Auckland - most successful on field.
Wellington - the eternal runners-up.
Canterbury - provincial giant on and off field.
Waikato - part of the Big Four, sound in every criterion.
Hawke's Bay - made huge strides in past four years.
Otago - by virtue of its 'franchise' status only.
FAIRLY SAFE
North Harbour - bad apples gone and big population base.
Taranaki - small population but soundly run.
FRINGE
Bay of Plenty - financially tenuous but big playing base.
Southland - represents the deep south admirably.
Manawatu - a big improver on and off field.
ENDANGERED
Northland - perennial strugglers.
Tasman - manufactured Canterbury feeder team.
Counties Manukau - talent pool but little else.