The Rugby World Cup next October has been billed as an economic boom: tens of thousands of tourists, international visibility that will raise our profile into the stratosphere and money virtually raining down on us.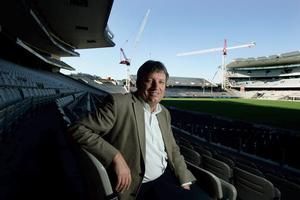 All eyes will be on New Zealand next year, we are told; no one will be looking anywhere else. A glossy report by global financial giant Deloitte observes that the Rugby World Cup is an event surpassed in global profile only by the Olympics and major football tournaments.
"TV audiences for the event have grown steadily, and Rugby World Cup 2007 was watched by a cumulative TV audience of over 4 billion in 238 countries," the report says.
Victor Matheson, a sports economist from the University of the Holy Cross in Massachusetts, was one of three experts the Herald on Sunday asked to cast their eyes over the much-touted economic benefits of hosting RWC 2011. He seemed surprised when he came across the claim that 238 countries tuned in to watch the last tournament in France.
"Considering the United Nations recognises only 192 nations in the world, Deloitte has apparently invented over 40 new countries, all of which seem to be rugby fanatics," he says.
Getting to the root of this odd claim doesn't involve inventing nations like Ruckistan or Maulovia. Deloitte says it relied on figures provided by the International Rugby Board while the IRB, for its part, say Deloitte converted "broadcast territories" into "countries". But it is characteristic of the woolly numbers and boosterism that litters discussion about the cup.
The Deloitte report, commissioned by the IRB, also says hosts of the event can expect a one-off increase in GDP of between $550 million and $2.4 billion, another number Matheson is sceptical about. He has carried out studies on various Olympics, and also the United States-hosted 1994 Fifa World Cup, and has compared pre-event estimates with post-event measurements.
"Almost without exception, scholarly research finds that the promoters' claims of economic benefits are wildly exaggerated," he says. "They can always find 'consultants for hire' who will provide eye-popping but utterly false numbers." Kit McConnell, the Wellington-based head of Rugby World Cup, strongly defends such studies. For example, he says, "In regards to integrity, Deloitte is without doubt one of the world leaders in this area."
He says the IRB didn't influence the conclusions, and was so hands-off in its preparation that it didn't change anything from the draft Deloitte presented. But should it have corrected the reference to 238 countries? "Well, that just shows you how much we took it at face value," says McConnell.
A Herald on Sunday investigation into the economics of the event suggests the public shouldn't take claims about the Rugby World Cup at face value. The publicly funded bill for hosting the event is $500m, and climbing, and the burden is falling disproportionately on Auckland.
In addition, a critique of the likely benefits claimed by rugby authorities due to flow into New Zealand as host found that the gains from the event could to be as little as 10 per cent of what has been reported.
Tournament cost 'unquantified'
When New Zealand first bid for the cup in 2005, Treasury made a provision in that year's Budget for a potential cost to taxpayers of $70m. In the years since, budget documents have listed the cost of the tournament as "unquantified".
But that figure of $70m has grown dramatically. Therese Walsh, of Rugby NZ 2011, knows the numbers behind the event better than anyone, but even she concedes that the total public cost of the event remains unknown. "We don't know exactly the number, to be honest," she says.
The Herald on Sunday asked central and local government figures in the four main centres, and found - in a conservative and by no means complete estimate - that the spending of ratepayer and taxpayer money on cup-related activity totals $507.6m.
Walsh, after hearing this estimate, says: "We've got a gut feel for a number, and you're not far off the mark."
Central Government has so far contributed $271.6m, mostly for stadium upgrades: $190m has gone into Eden Park, and $15m into AMI Stadium and the new Dunedin Stadium. The Government is also underwriting two-thirds of the expected loss of the tournament - the New Zealand Rugby Union is absorbing the other third - at present budgeted at $39.3m.
Local councils are also spending for the Cup, but the degree of largesse varies wildly by region. A spokeswoman for Dunedin City Council says that - aside from $113.5m contributed by local councils to the new Dunedin Stadium - only $200,000 has been budgeted in additional spending. "Otherwise we're meeting everything with existing staff and budgets," she says.
Christchurch is similarly frugal: except for a $5m contribution to upgrading AMI Stadium, only $700,000 is budgeted for events surrounding the Cup. Wellington City Council plans to spend $2.3m on parties and promotion, with another $1.45m for infrastructure projects, including a 5m statue designed by Weta Workshops for the waterfront.
But in Auckland, regional and local councils have opened the public purse wide. About $95m of ratepayer money is going into Eden Park - for the stadium and transport infrastructure surrounding it - the ever-changing "party central", and on banners and giant television screens.
Economists interviewed by the Herald on Sunday caution that not all of this spending should be treated as a cost. Otago University senior lecturer Alan King says spending on stadium upgrades should be considered as an investment. But, he notes: "Whether this particular capital expenditure represents a sound form of investment is a different question, and one I'm not in a position to answer."
Past events
Lessons as to what is a wise, and lasting, investment might be learned from the last time Auckland hosted a major sporting event. The 1990 Commonwealth Games were also touted as a boost to national confidence and pride, and many venues custom-built for the event became white elephants.
The Manukau Velodrome where New Zealand won nine medals, including four golds, in 1990 is today so cracked and worn that it is unsafe for competitive cycling. And south of the Bombay Hills in Mangatawhiri, the venue for the full-bore rifle range competition is now just a grassy field.
Bruce Millard, president of Target Shooting Auckland, says the range at Mangatawhiri was a welcome fillip for an often-neglected sport. "We were just happy to put a rifle range where we can, to tell the truth," he says. "It was a good spot, but it wasn't ideal, it was a bit far out of town." But in 1998 the range was dismantled and reverted to cropland. "Just corn, or maize, basically, now it's just grass," he says. "We're a minority sport and can't get any money."
Told that more than $500m of public money has been spent so far on the Rugby World Cup, Millard is initially speechless, before saying: "That's obscene."
It is unlikely that after the final whistle of next year's festival, Eden Park's pitch will be used to grow corn, but the scale of the investment - $200m of public money - raises questions about what this expensive facility will be used for.
The capacity of Eden Park before the upgrade was 47,000, and the upgrade added an extra 3000 permanent seats. But before construction began, capacity was reached only when the All Blacks played test matches against major competition. The public spending component of the upgrade essentially meant taxpayers and ratepayers handed over $67,000 for each extra seat - and the seats will be needed only two or three times each year.
Martin Snedden, the chief executive of Rugby NZ 2011 and the front man for New Zealand hosting the tournament, conceded this analysis of the Eden Park upgrade has "some validity".
But he says that without the upgrade, New Zealand's bid for RWC 2011 would not have been accepted. And, besides, Snedden has his eyes on bigger prizes for Auckland's stadium than the occasional All Black Test match.
"I'm thinking of making a comeback," the former test cricketer says of the possibility of reusing the renovated stadium for a tilt at hosting the Cricket World Cup.
Eden Park chief executive David Kennedy argues that the upgrade is more than the sum of its extra seats: "The vastly improved amenities at the ground, inside and out, will transform the fan experience and increase the average attendance at lesser games."
Kennedy goes on to argue that venues like Eden Park are important pieces of regional infrastructure, with roads and ports.
Benefits 'wildly overstated'
"I hope I don't come across as an opponent of the World Cup," says Auckland University economics professor Tim Hazledine. "I'm going to be waving my flag supporting Canada, and then New Zealand in the final. But I do think the economic benefits have been wildly overstated,"
Hazledine was one of three economists consulted by the Herald on Sunday to assess the claimed economic benefit to New Zealand of hosting RWC 2011; the others were Matheson and King.
These benefits have been widely and extravagantly touted. Consulting firms Horwath Asia Pacific and Market Economics released a report in 2006 that was accompanied with a press release headlined: "Tournament expected to generate $1.15 billion in total economic activity."
That report estimated the tourn-ament would spark a one-off increase in New Zealand's GDP of $506m, primarily from the spending of 60,000 tourists who will flock to the rugby. The expected number of international rugby tourists was revised in March, and is now up to 85,000.
Treasury is understood to have played a role in assessing the study, and costing the tournament proper, but spokesman Angus Barclay declined to release any reports prepared by his department. Herald on Sunday queries for information about the Cup were instead treated as an Official Information Act request.
And the full Horwath report, including how details of the projected benefits were calculated, is also staying out of the public eye. Only an executive summary has been released, and commercial sensitivity has been cited as the reason for non-disclosure.
Despite these obstacles King, Matheson and Hazledine were able to make some broad comments. All spending from within New Zealand, they say, should be discounted because it is a simple transfer: what we spend on stadiums would have been spent anyway and could have been spent on roads, schools or hip operations.
The real boost to New Zealand from hosting RWC 2011 comes from the spending of international tourists - and this is where serious questions are asked. Matheson, King and Hazledine all point to the "crowding out" effect. As Hazledine explains: "How many people, who are not interested in rugby, will think 'where shall we go?' And the travel agent says, 'Not New Zealand, it's full of rugby heads at the moment'."
This "crowding out" effect can be substantial, says Matheson, even to the point where no gain at all is enjoyed. The recent Beijing Olympics is a case. "Tourism numbers in Beijing during the Olympics did not increase over the number of tourists the previous summer."
James Parkinson, director of Horwath, admits that its report has not considered this effect. "For crowding out to actually have a material effect, you'd have to assume that those people simply don't come - whereas from our perspective it's more likely that people would simply just defer their travel time. On that basis we chose not to have any discount for crowding out."
Hazledine says the effects of "crowding out" will be significant: "You should take 20-25 per cent off those foreign-visitor numbers to get people who are a genuine net gain to New Zealand tourism."
These new tourist dollars are't pure national profit, he says. The tourism industry ha to work to earn them. "This is the big one, and Australian economists have done serious modelling and they basically say an extra tourist dollar is worth 10 to 15c to the economy. The rest is opportunity cost."
He says the gains from tourism are likely closer to $50m than $506m.
Then there are the taxation gains, primarily from GST, which Horwath estimated as $112m. "This is free money, but when you take out the crowding out of international tourists, you might be down to $80m to $100m," says Hazledine.
And in terms of a long-term tourism boost, the experience of Australia in hosting the Rugby World Cup should signal a note of caution. Tentative conclusions drawn by researchers found that the 2003 festival of rugby only drew in an additional 5775 tourists in the following two years.
Taking all this into account, Hazledine is prepared to talk numbers. "There might be genuine economic benefit of spending by fans of around $100-$150 million - and perhaps I'm being a bit generous."
This final figure is a fraction of the "$1.2 billion dollar boost" seen in newspaper headlines last year. It's also remarkably close to fellow economist Matheson's general advice when it comes to evaluating promoters who tout the benefits of hosting large sports events.
"A good rule of thumb used by economists evaluating claims of economic impact is to take the numbers given by the promoters and simply move the decimal point one place to the left," says Matheson.
Walsh, chief operations officer for Rugby NZ 2011, is open to this criticism. "We accept they are simply estimates, and all estimates utilise methodology and assumptions that are never certain."
Snedden says the Herald on Sunday's investigation of the economics of the event is overdue: "It's going to have to be examined. This needs to be done."
While the economic impact on New Zealand is questionable, from a global perspective the Rugby World Cup is a highly profitable business. Inter-national broadcast rights to the 2007 tournament reportedly fetched more than $275m, and sales of merchandise like team jerseys, and sales of advertising hoardings inside stadiums are also a licence to print money.
But these two lucrative revenue streams flow not to New Zealand, but to Dublin, where the International Rugby Board has its headquarters. This arrangement, in which the organiser siphons off broadcasting revenue, is not unique to the Rugby World Cup - similar agreements are in place for the Olympics and Fifa's World Cup.
"All of this spending will be a leakage, essentially an import," says Hazledine.
Snedden says the flow of money offshore would always happen: "New Zealand rugby knew all this when they went into it."
Economists have long struggled to explain why countries would rationally want to host large-scale sporting events. Andrew Rose, of Berkeley University, and Mark Spiegel, of the Federal Reserve Bank of San Francisco, concluded last year that hosting "mega" events gives off a signal of national confidence.
And this signal is noticed. There is a correlation between bidding for mega sporting events and a boost in international trade. But, after examining the expenses incurred by host countries, they described this signal in an otherwise dry academic paper as "burning money".
Matheson says the reasons for New Zealand hosting the RWC can't be financial. "Obviously the World Cup will be a lot of fun for rugby fans in the country, and the event may well make New Zealanders happy. But no one should think it will make you rich."
And rugby fan Hazledine says the best argument for hosting will be the ecstasy of winning a tournament that has eluded the All Blacks since 1987.
But, he says, the price of home-field advantage has been steep. "If we weren't going to win, I don't think it would have been worth having the tournament here."
COUNTING THE COSTS
Central and local government spending
Central Government
* Underwriting 2/3 of overall loss....$26.2m+
* Eden Park....$190m
* Dunedin Stadium....$15m
* AMI Stadium....$15m
* Party Central....$9.6m
* Joint bid for free-to-air broadcasters....$3.2m
* Northland Stadium....$2.5m
* Trafalgar Park....$7.4m*
* Tourism NZ marketing....$6m**
* Trade and Enterprise....$2.1m
Local Government
Auckland
* Auckland Regional Council - Eden Park....$10m
* City Council road upgrades....$55m
* Other council spending....$35m
* ARC contribution to Party Central....$13.4m
Christchurch
* AMI Stadium upgrade and other council spending....$5.7m
Wellington....$3.7m
Dunedin (stadium upgrade)....$113.5m
Total public sector spending....$507.6m
Cost per New Zealander....$118
*Includes $5.9m contribution from Nelson Council. **Includes estimate for 2010/11 year