Dutch Prince first European monarch to take throne in age of opinion polls, Twitter and budget committees.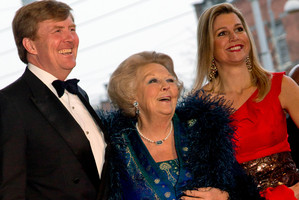 Monarchy in Europe is set for generational change tomorrow as the first in a group of royal heirs ascends to the throne at a time when kings and queens have never faced such cold-eyed scrutiny.
With varying success, royals these days walk a tightrope of opinion polls, Twitter feeds and budget committees, vetting them for work rate and frugality in a period of austerity, say observers.
The ceremony in Amsterdam will inaugurate Dutch Crown Prince Willem-Alexander, whose mother Beatrix is abdicating after 33 years on the throne. The 46-year-old is the oldest in a group of younger royals - including Prince William in Britain, Prince Felipe of Spain, Princess Victoria of Sweden and Prince Frederik of Denmark - on whom the future of Europe's monarchies depends.
"A new generation of monarchs is coming to the fore, with high expectations from a majority of their people to infuse confidence in the monarchy as a form of government and ensure its long-term future," says Bucharest-based royal historian Diana Mandache.
Monarchy today is a tale of fluctuating popularities as royal families respond to pressures of transparency and accountability.
Mandache gives highest marks to the British royals, bouncing back after scandals in the 90s thanks to the Queen's Diamond Jubilee, William's marriage to the photogenic Kate Middleton and the excitement surrounding their baby.
Doing well, too, is the monarchy in Denmark. A poll last year during Queen Margrethe II's Ruby Jubilee found 77 per cent of Danes were happy with the royal family. Crown Princess Mary, a 41-year-old Australian, is as popular with the public as Kate is in Britain.
On the other end of the scale is Spain. Many Spaniards have high regard for King Juan Carlos I, who in 1975 steered the country to democracy after dictatorship and helped quell a right-wing coup in 1981.
But a rising minority - 40 per cent according to a recent poll - now believe the 75-year-old monarch should abdicate in favour of his son.
Last year, just after declaring deep concern for young unemployed in Spain, the King secretly flew to Botswana, where he went on a safari to shoot elephants ... accompanied by a blonde German woman who was not his wife, the stern-faced Sofia. Their daughter, Princess Cristina, is being probed in a case of alleged corruption and tax fraud involving her husband, Inaki Urdangarin.
Karl Shaw, author of Royal Babylon: The Alarming History of European Royalty, says the popularity pendulum is part of a royal's job.
"As a young man, even Prince Charles was hugely popular, before he became the eccentric, meddling, adulterous old plant-botherer we know him as today.
"If you polled British monarchists most would happily pass him over and have William installed as the next king," said Shaw.
"But then eventually, people will grow tired of William as he gets older and some scandal or other will surface as it inevitably does for royal princes ... The cycle has been going on for hundreds of years."
Daniel A. Willis, who writes the annual Reference Guide to the Royal Families, said public craving for continuity and national identity was a boon for the monarchy.
"Royal families represent ties to history, as well as consistency in a world where politicians change with the wind. They also represent the future," he said.
Despite this, Europe's 10 hereditary sovereigns have to worry about their popularity far more than their forebears ever did.
They have to juggle mystique and accountability, classiness and frugality, aloofness and the common touch.
And as their subjects tighten their belts, monarchs must put in the public appearances, support charities and curb perceived excesses.
Herman Matthijs, a professor of public finances at Belgium's Ghent University, gives high marks to Elizabeth II for being the first monarch, three years ago, to show she was attuned to the need for austerity.
She froze staff salaries, postponed maintenance work on royal residences and dropped full-time security for the daughters of her fourth child, Prince Andrew.
In the Netherlands, Beatrix bowed to public criticism by saying she would pick up the tab for the royal yacht, rather than have it paid by the defence ministry.
In Belgium, King Albert II came under fire after his budget was boosted by 3 per cent. He vowed to pay some of his own expenses over the next two years, saving the country more than $700,000.
After the safari scandal broke over his head, Juan Carlos announced he had cut his own salary, and that of Felipe, by about 7 per cent.
Matthijs, who tracks the costs of heads of state, says Europe's most expensive leader is Francois Hollande, President of the French Republic.
Hollande's office annually costs $153 million - three times more than the Dutch and British royals, second and third on the list.