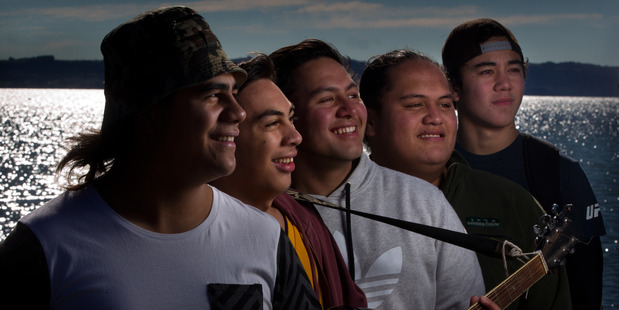 The message is in the music for nine Rotorua secondary school band members competing in the SmokeFree Pacifica Beats regional finals.
Rotorua Boys' High School's Open Arms have been jammin' together since the start of the year in readiness for finals event at the Rotorua Convention Centre this Saturday night.
The reggae beats-inspired band includes Arapeta Paea (vocals), Terence Apiata (bass), Te Hakaraia o te Rangi Wilson (vocals), Tawhirimatea Witoko (vocals), Tua Riki Brown (lead), Tahu Kingi (rhythm guitar), Lacey Kim (keyboards) and AJ Moke (drums).
Band spokesman Tawhirimatea Witoko says the group, who are in the same music class, have been able to refine their talents with regular sessions.
"A few of us started with 'TRB' (The Raukura Boys') a few years ago and have brought in new members and formed Open Arms," he says.
"We have four chords and base everything on that.
"Whenever there is a guitar around, we start to jam.
"We haven't really had any formal lessons, it just comes naturally.
"On stage we like to deliver our original music to the audience. Once they pick up on it, we draw confidence from them and go from there."
The band will play an original composition, Soul of Music, and either one of two options - Addiction or Beauty.
Addiction is about Maori being unfairly stereotyped as gamblers and drug takers, and about how to lose this label," he says.
"We are singing about healthy living and getting away from those old stereotypes."
Their other original composition, Beauty, is about the beauty that is found on the inside, not the outside.
"We like to write songs which have a strong meaning, not just a tune to dance to."
Rotorua BHS principal Chris Grinter, and school music teacher Cameron Hay, have been supportive, he says.
"Mr Grinter is always talking to us to go for it, and do our best, and Mr Hay keeps us sharp."
Smokefree Pacifica Beats spokeswoman Elena Lome says the regional finals provide a really professional environment for young musicians.
"We give them the experience of playing on stage in front of a big audience with lights and all that you'd expect from a live music show."
All bands are required to have Maori or Pacific Island elements in their music or performance.
Last year's winners, Strangely Arousing, will be the guest band at the regional final at the Convention Centre from 2pm.
The top two bands from each region present videos and social media tasks towards selection for the national final in Auckland on September 26.
The six finalists will play at the band camp with a chance to win thousands of dollars worth of musical gear and guest spots at next year's Raggamuffin and Pasifika Festivals.