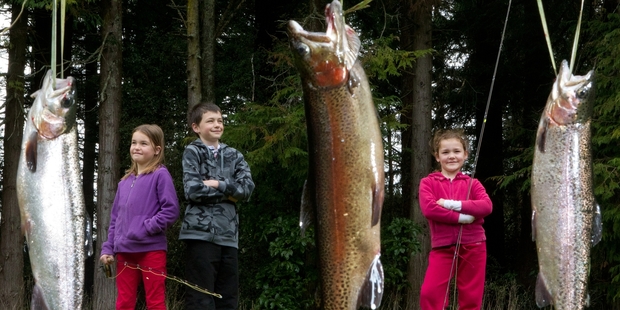 It was trout for tea last night for members of the Isaacs and Burns families after a successful day at the Eastern Region Fish & Game open day.
Fish & Game staff at the Ngongotaha Trout Hatchery played host to keen and up and coming anglers in the lead up to opening day of the fishing season tomorrow.
The day was aimed at everyone from seasoned anglers to would-be fishers, the general public and children.
The open day featured guided tours of the hatchery, how to bone and smoke your catch, children's fishing lessons, fly-tying, knots and rigs demonstrations and a boat fishing seminar with local guide Lindsay Lyons.
Rotorua's Jeff Isaacs took his two girls Zoe and Tara to the open day, along with their cousin Hayden Burns, with all three catching a fish. "I'd never been there before so it was something a bit different.
"The kids all caught a fish, spent some time wandering around the hatchery and now it's trout for tea," Mr Isaacs said.
Eastern Region Fish & Game regional manager Rob Pitkethley said numbers were down on previous years, but this was a bonus for those who did attend. "That meant everyone got a great chance to catch a fish. The tour was really interactive with the boning and smoking of fish and the other classes we put on," Mr Pitkethley said. "People took away information about the start of the new fishing season on Tuesday at Rotoiti, Okataina and Tarawera after their winter rest."