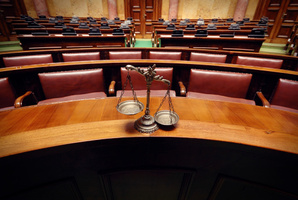 A Rotorua man facing multiple dishonesty charges lost his temper and his lawyer during his latest court appearance.
Dean Goodall, 22, appeared in the Rotorua District Court on Wednesday. He had previously pleaded not guilty to 20 charges of fraud, obtaining by deception, theft, burglary, failing to appear and breach of supervision. The charges include alleged non-payment at seven North Island motels, including three in Rotorua.
During a discussion about sending some of the matters back to the Pukekohe and Manukau courts, Goodall became agitated and asked the judge if all matters would stay in Rotorua if he was to plead guilty. His lawyer, Wiremu Te Are, then requested leave to withdraw as Goodall's lawyer.
He told Judge Jocelyn Munro it had been difficult to obtain consistent instructions from Goodall.
"He may benefit [from] better representation than I."
Mr Te Are said he had completed a legal aid form and a new lawyer could be appointed within days. The judge granted Mr Te Are leave to withdraw and remanded Goodall in custody to appear in Manukau on October 7, Pukekohe on October 9 and Rotorua on October 23.
Goodall swore loudly and banged the courtroom wall as he was led away, before calling out to his partner in the public gallery that he loved her.