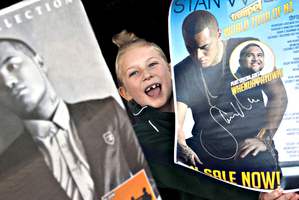 Rotorua's Tia ChurchKratzmann kept repeating one thing when she found out she won the Rotorua Daily Post Stan Walker competition.
"I was really excited. I kept saying, 'I can't believe it, I can't believe it'," she said.
The 8-year-old Lynmore Primary School student won a CD box set, poster and tickets to the singer's concert tonight and had a chance to meet him at a dress rehearsal yesterday afternoon.
"It was good news when I was told [I won] because I was sad my grandparents were going back to Australia," Tia said.
"I like [Stan's] voice . . . I met him once, in Australia. My Dad did sound at one of his shows in Brisbane. My friends are really excited for me and wish they were going, especially [school friend] Fraser, as he's a big fan of Stan Walker but I'm taking Mum."
Walker's show tonight is his first in his World Tour of New Zealand that includes 23 shows around the country taking in some smaller towns like Edgecumbe. The actor and musician will be supported by The X-Factor New Zealand runnerup Whenua Patuwai and Rotorua's Turanga Merito.