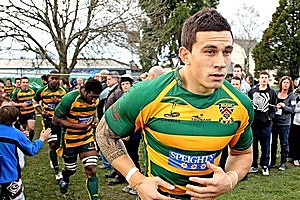 They were hanging out of the trees, you couldn't find a parking spot at Sheldon Park and they were lined up seven or eight deep on the sidelines - but, in the end, all you could really say about Sonny Bill Williams' rugby debut in New Zealand was that he's finally had a game.
The Belfast and Lincoln University club sides seemed a bit overawed by the attention. They'd normally get 100-200 people on a good day. There were thousands yesterday.
While the standard of rugby wasn't up to much, Sonny Bill scored a solo try from second five-eighth and you can see why the All Black selectors are interested in him.
He looked the part in Belfast colours - green and gold, right down to the gold boots - and on the evidence of what little ball he got, he looked the part in a rugby sense too.
At one stage, he came into the breakdown, grabbed the ball, swatted off two or three forwards as if they were sandflies and made a run downfield. He chipped ahead and would have re-gathered but the Lincoln defender looked relieved when he got the bounce of the ball and cleared.
But that's the thing about Sonny Bill. He is big, he is strong, he is fast. You can see the athletic ability and you can see the strength. We already know he can offload a ball. Now have a think about the All Black style of play these days.
It's fast-moving, counter-attacking, keep the ball, move it wide and out-distance the other blokes. So a big, athletic midfielder who can keep the ball alive; make it available to supporting players in phase play which outstrips the defenders - well, in my book, that's a smart move.
It's early days, of course, and he'll have to get used to New Zealand rugby, but I think he will be an asset to Canterbury in the ITM Cup - and then let's see where he is going.
I don't hold much with the folk who resent him being "fast-tracked" into the game and possibly the All Blacks. He's still got to prove himself, but there's been plenty of examples of other players being helped - like Ali Williams.
We heard the other day he could get a contract in Europe to help regain his place in the All Blacks. That's fine with me, even though it's not strictly from the text book.
The thing with Sonny Bill is that he fits the pattern the All Blacks are trying to play. It's not like they've just fawned over him because he's a big name or anything. They can see a role he can play in what they are trying to do.
That's what coaches and selectors are supposed to do: identify a game plan then find the players to carry it out. Good luck to them and to Sonny Bill.
Some people are also a bit down on him because of the business of how he left the Bulldogs and the emphasis that he seemed to place on money, some even called him "Money Bill". We are interested in him as a rugby player, not for decisions made off the field.
In any case, he was just a young bloke then. If we punished people long-term for mistakes they made when they were 22 or 23, none of us would be allowed to do anything.
I'm looking forward to seeing him play some more; I reckon it might be rewarding. As for the All Blacks, well, even if he doesn't make it through to the top team, if he makes Ma'a Nonu or any other second five play better, he'll have already done a job for them.