In the fourth of a six-part journey across some of our most beloved beach destinations, reporter Jamie Morton and photographer Alan Gibson travel to eco-friendly surf mecca Raglan.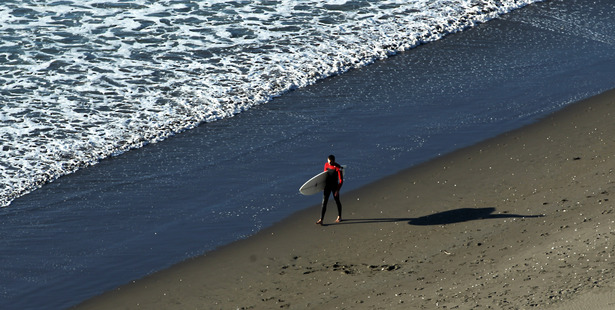 Nah, it ain't epic," a teenager tells his mate. A surfer far below in Manu Bay fights to grab a wave amid fingers of boards.
"Get up, get up, get up," the other teenager mumbles, his eyes fixed on the small black figure gliding against the blue and orange of a west coast sunset.
The figure falls.
"Nah, he hit that lump, bro. There's a mean lump there. I could've got up."
His mate continues the commentary.
"Definitely not epic."
Here's a typical headland conference at Raglan, on an evening where its famed surf breaks are hardly firing.
On a good day, its series of breaks appear as tall aisles of rolling decks, pushing walls of curling water around a shoreline carved in surf heaven.
One local describes Raglan - once the black-sand backdrop to the 1966 surfing classic The Endless Summer - as the "spiritual home of surfing in New Zealand".
For the first-time visitor, a winding drive through steep countryside - the deviation, or "divvie", forms a natural gateway and formidable adversary to hung-over surf seekers - gives away a few clues of what awaits in Raglan.
Around the time you spot a tractor tyre on the side of a hill, advertising local radio station Tractor FM, tune into 88.2 and the car stereo might relay anything from drum and base to dub. We get Mungo Jerry's In The Summertime.
Crank up the volume as you hit the main drag, Bow St - a portrait of Kiwiana new and old, with its mix of cafes, historic buildings and art galleries.
You'll find a bottomless well of creativity here, showcased in galleries like Jet Collective, Kanuka, Matapihi, Show Off, Hello and the Bow St Gallery.
Tracy Brechelt works at the end of the street, just beyond a line of palm trees running down the centre toward the Whaingaroa Harbour and next door to Orca restaurant.
She's been a figure on the art scene for two decades, leaving countless surfers and backpackers with permanent souvenirs from their visits to her upstairs tattoo studio.
The job helps her creative flow, but if she holds a deeper passion, it's "pimping out" festivals and backyards.
A top hat and other items from a recent effort themed on Alice on Wonderland still lie about the studio.
Ms Brechelt happened to be setting up a giant Easter bunny at Raglan's beloved Boardies and Bikinis festival when she met her partner Tim Turner.
The couple are now well known around the festival circuit for their large and colourful creations, and inspiration is never far away.
"We have a recycling centre up here called Kahu's Nest and if I'm stuck I'll just go up there, take a walk around and wait for something to jump out at me."
Nationally-renowned Aaron Kereopa is another artist from Raglan, yet that's not to say he's a Raglan artist.
"I didn't specifically choose Raglan as the place that's going to be the answer to all my creativity or that's going to influence what I do," he said.
"I just take from my life experiences, and many of them happen to be in Raglan."
The brother of big wave riding surf champion Daniel Kereopa, he grew up on a sheep and beef farm across the harbour at Te Akau, eeling, whitebaiting, "chasing around after animals all day".
He found it hard to concentrate at school and later at Waikato Poly-technic, but art was always "easy as".
"I just started doing it without any formal training - for me, it was just kind of off the cuff - it was a pretty normal thing to do."
It was never considered as a career option until much later in life, when he found himself living in Australia.
"I never thought it could go the direction it did. I don't know if it was just meant to be or a fluke.
"We weren't encouraged to follow creative ideas, we were just told to stay in school, do maths, stuff that would get you a job as a lawyer or an accountant."
He'd once seen a surfboard carved blank used in a protest against nuclear testing in the Pacific. It inspired his chosen medium, carving creations out of the polystyrene core of surfboards with a Stanley knife.
The pieces speak of Maori mythology, his ancestors, of surf culture.
He is now a young father of two, and his life has calmed down. Surfing, which used to take up most of his time, has taken a backseat to family life and the peaceful solitude of the studio.
He named his 6-year-old son Kaitawhiti, meaning "traveller", and he hopes he'll journey far.
Before that though, he'd like him to experience the Raglan he knew as a boy.
"People still drop off mutton and bake cakes as a neighbourly gesture, everyone just rocks up - that kind of stuff's really cool out here.
"I just want the kids to see part of it."
When retired farmer Michael Wallis thinks of his childhood, memories of floundering by moonlight and riding horses around his old family farm at Okete come flooding back.
Raglan may have looked different then, but when his ancestor Reverend James Wallis arrived in the early 1800s, there was "virtually nothing".
The missionary became the first white settler in the area - Wallis St is one of Raglan's main roads - and for three decades, was the only pakeha here.
An imported four-poster bed provided comparative luxury amid a frontier wilderness.
The Wallis name has lived on in Raglan, the 130-year-old homestead he was born in still standing a short walk from the farms of his two sons.
An old bach at the harbour's edge remains the 71-year-old's weekend getaway.
There's a private jetty and a shed designed like a wharenui, perfect for smoking fish and storing boats.
"I get out here from Hamilton quite a bit over summer and I'll come out when I'm hanging out for a flounder."
The family owns other baches and Mr Wallis would like to think his own descendants will always have a place here.
"I guess there's something here that you carry with you," he said.
"I've had a blessing passed down from my ancestors ... and I want to leave something that will be a blessing to my children's children."
Raglan - originally named Whangaroa, or "the long pursuit" - seems determined to sustain.
Its close-knit community prides itself on being New Zealand's recycling capital, diverting 75 per cent of local waste away from landfill within just a decade.
The local eco-ethos plays out in various shapes and forms - even Tractor FM's transmitters are solar powered and run off the grid.
Solscape, overlooking Manu Bay at the foot of majestic Mt Karioi, is as much a lesson in sustainable living as it is a retreat for visitors seeking something different.
There's the choice of tipis with natural timber floors, an energy efficient eco-bach, and Tolkein-esque earth domes made of freely available natural materials.
"Low tech, low cost, low impact," as Phil McCabe described them.
He runs the retreat with wife Bernadette Gavin and their 11-year-old daughter, Sequoia.
Formerly Raglan Wagon Cabins, the site was Raglan's most expensive residential property when it came on the market 10 years ago.
Mr McCabe figured out how to buy it with a little creativity and a lot of optimism.
"I knew we could do it and we made it happen."
Last year, Solscape hosted students sitting diplomas and certificates in sustainable practice run through Otago Polytechnic, and shorter courses ranging from social media to permaculture design.
"There are a few examples around the world, but there's nothing in New Zealand like we're doing."
The latest project, a vegetarian cafe, draws on fresh produce grown in a garden a few metres away.
"Our core business is a good night's sleep and second is doing it in a way that has the smallest possible impact on the environment.
"If we can inspire people, then that's the gold."
Whaingaroa Harbour Care has strived to do the same for nearly two decades.
On a big fishing day there might be more than 100 boats in the harbour, yet it wasn't long ago that the harbour was "pretty much muck" for 300 days of the year, said the group's manager, Fred Lichtwark.
Dead stock were frequently washing out of the harbour and on the beaches, and metres from the shoreline the harbour became a stew of sloppy, stinking mud.
"Maf rated our harbour one of the worst in the country. It was just a septic oxidation pond really."
Today, the water flowing into the ocean was cleaner than the sediment flowing out of it, and once-barren mudflats were teeming with crabs and shellfish.
The game plan had been to get land owners to respect waterways, to fence off waterways, and filter water before it was discharged into the harbour.
Few wanted to know about the effort until they discovered the financial benefits of riparian planting and keeping stock away from waterways, Mr Lichtwark said.
Protecting the harbour meant working 40km inland over 525km of fence line.
"So far, we've done about 440km of it and about 65 per cent of the landowners have come onboard."
Offering a planting service and its own nursery, Whaingaroa Harbour Care is now responsible for the planting of more than 1.2 million trees, many of them perched over Wainui Reserve.
"Today we've got one of the best fisheries in the country, and as a result we've got a town that's healthy and booming.
"When it came to tourism, no one was interested because the place just stank."
Raglan, he said, should be a simple lesson in what could be achieved with a "just get on with it" approach. That, and a healthy dose of local pride, Raglan-style.
"That's where I have a lot of run-ins with the local council, because they're only visiting. This is my place."

Surf's up
Location: Raglan is 48km west of Hamilton on State Highway 23, a 40-minute drive from the city and a journey of just under two hours from Auckland.
People: Raglan had a population of 2637 as at the 2006 census. Locals are known for their creativity and environmental conscience.
Famous for: Principally, its surfing. Raglan was featured in the 1966 surf classic The Endless Summer and its exports include champion wave rider Daniel Kereopa. Raglan also has a thriving arts scene and prides itself on its recycling - about three quarters of its waste is diverted away from landfill. In the 1970s, protests in the town made headlines when Maori reclaimed the public golf course after the land was used for a wartime airfield but not returned to its indigenous owners.
Special features
Surf breaks: Raglan's surf breaks are clustered close together, and each has its own character.
Indicators is a fast-moving left-hand beast that can break for up to 600m between 0.6m and 3m.
Whale Bay, a left-hand point break halved by two sections, Manu Point, another left-hander with occasional barrels, and Vortex Bay, a soft peak which sometimes breaks on low tide.
Legend even has it that one surfer managed to ride the 2km from Indicators to Manu Point, one break after another, but some doubt the story.
Mt Karioi: The mountain that overlooks the town holds a spiritual influence over Raglan. In Maori legend, Karioi was a beautiful princess jilted when her husband, Karewa, flirted with her sister. In anguish, she lay down to rest. The mountain can be climbed in just under four hours.
Bridal Veil Falls/Wairenga: Found 15 minutes out of Raglan, the falls plunge 55m into a large pool in the Pakoka River. Getting there takes a 15-minute walk through native bush.

The series
Monday: Waimarama
Tuesday: Wainui
Yesterday: Whitianga
Today: Raglan
Tomorrow: Mokau
Saturday: Mt Maunganui