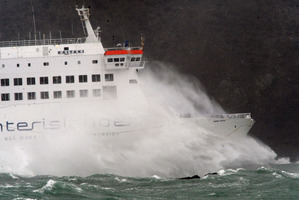 A ship course plotted by a cadet almost led to a repeat of the Rena disaster before a harbour pilot spotted the mistake and had the vessel steered away from rocks.
The near-miss that nearly led to a grounding at the Wellington Harbour entrance is among 13 serious incidents involving ships reported to authorities since the MV Rena slammed into Astrolabe Reef and caused our worst environmental maritime disaster.
Disclosed to the Herald by Maritime New Zealand, the incidents have revived calls for New Zealand to introduce tougher navigation laws for ships - something the Bay of Plenty region is now considering.
But the Government reaffirms it has no plans to adopt compulsory shipping lanes.
In the most serious case among documents obtained under the Official Information Act, in August last year, the 193m cargo ship AAL Brisbane was headed for Pencarrow Rocks in the Wellington Harbour when the harbour pilot came aboard.
The ship was found to be 600m off course, with the GPS feed to the ship's ECDIS (electronic chart display and information system) described as "grossly in error".
An internal memo stated the ship's course was being plotted by a cadet, who was being supervised by a master mariner, and the two were separate from the ship's bridge management team. "Fortunately the harbour pilot came onboard, noticed the error, and adjusted the course of the ship - avoiding a grounding."
The incident prompted Maritime New Zealand to hold an emergency meeting and the ship to be temporarily detained in port.
In the same month, the Interislander ferry Kaitaki had to alter course when a gas tanker failed to give way in the Cook Strait.
A summary stated the ferry was travelling from Picton to Wellington at a speed of 18 knots when at a distance of two miles away, the tanker Astrid had not given way as it was supposed to have.
When the Kaitaki could not reach the tanker on radio, it altered course to avoid collision.
The incident was one of four reported incidents involving the same ferry being forced to take action when encountering other vessels.
The Kaitaki had been forced to give way to a launch, brake to avoid hitting another one and change its outbound heading to make room for an incoming gas tanker entering port in the recommended outbound lane.
The two ships eventually passed at a port to port distance of less than 75m.
In another case, at Marsden Point near Whangarei, a small power boat was motoring toward an oil tanker at full speed in early morning darkness when it turned away, narrowly avoiding impact.
"Two sidelights were visible approaching directly dead ahead very fast," an event description stated.
"At the last minute, the boat veered off and passed down the starboard side of the oil tanker as though suddenly realising its presence."
The AAL Brisbane's near-miss has been highlighted as an example why the country needs better shipping routing systems.
Marico Marine senior partner John Riding has tracked ships cutting too close to land as often as every two days, including a 280m cruise liner monitored while sailing through the Mercury Islands.
Ships in New Zealand open waters must comply with a list of rules that require competency, compliance with collision regulations, an electronic system that identifies them and for crews to develop passage plans for their navigation around coasts.
But Mr Riding said if a Government did not introduce a new system where authorities would plot GPS-guided routes for ships, it was a matter of time before another ship grounded.
"What we've got now is a free-for-all - and you don't have to look very hard to know the free-for-all isn't actually working," he said.
"If we made it so ships have a passage plan and they've got to pass through a, b and c, you can seriously influence where the ships go."
Mr Riding believed what he saw as "prevention" would prove far less expensive than dealing with ships after they grounded.
Opposition MPs are also calling for a crackdown.
"I think the Government should be directing Maritime New Zealand to take a closer look at this - and it's a good example of where the Government taking a hands-on approach and re-establishing some light-handed regulation that helps to improve safety could be very sensible," Labour transport spokesman Iain Lees-Galloway said.
Green MP Gareth Hughes, who backs compulsory shipping lanes, accused the Government of downplaying the risk of further accidents since the Rena disaster.
"The Rena captain himself recommended the use of compulsory shipping lanes but the Government rejected the idea."
Mr Hughes said the near-misses were also an urgent reminder that the country needed a better oil spill response capability.
New Zealand Shippers' Council chairman Greg Steed said any new system put in place would have to be "safe and pragmatic" for a country the size of New Zealand.
"We'd support that but we'd have to look at the costs involved in that, because we would be concerned they could be passed on to shippers - and there needs to be good justification for something like that to happen," he said.
Shipping New Zealand president Captain John Robinson said shipping lanes could slightly extend travelling distances, but "if it improves the safety, then it's got to be accepted really by most lines".
But he said the number of accidents had been low compared to the amount of shipping in New Zealand, where overseas vessels made around 6800 port calls last year.
A Ministry of Transport spokesperson said the country had low levels of shipping traffic by international standards and compulsory lanes were generally used in areas with narrow waterways or large concentrations of vessels; to keep ships with hazardous cargo clear of coasts; and where navigation was hazardous.
The ministry would go over issues and any evidence with Maritime New Zealand before deciding whether it would review regulations.
The spokesperson said the Transport Accident Investigation Commission's report on the Rena disaster - due some time after July - was "likely to be of particular relevance".

Worrying incidents since October 5, 2011
Wellington Harbour, 12.11.2011: The launch Waikomouri failed to give way to the Interislander ferry Kaitaki while it was approaching Wellington Harbour. Despite sounding five horn blasts, the Kaitaki was forced to give way instead.
Canterbury, 25.1.2012: When the cargo ship Kota Permasan were asked by a pilot vessel to lower its ladder, its tripping line fell into the water. This could have been dangerous if the line was caught in the propeller.
Napier, 15.2.2012: A fishing boat cut across the Port of Napier's entrance channel, preventing the containership MOL Summer from turning into the port entrance.
Taranaki, 27.2.2012: A damaged ladder on bulk carrier Uni Auc One was deemed unusable for boarding and unsafe.
Napier, 21.3.2012: In "restricted visibility" the container ship Maersk Brani encountered yachts while departing from the Port of Napier and had to alter course and reduce speed to allow them to cross ahead of it.
Napier, 28.3.2012: The containership MOL Summer struck a berth, causing a crack 230mm in length and 10mm wide in the hull.
Napier, 28.3.2012: The tug Maungatea was slow in taking the weight of cargo ship STX Harmony and towing it while it was turning and backing into a berth, resulting in its starboard shoulder making a "glancing contact" with a corner of the wharf.
Taranaki, 10.6.2012: The pilot ladder and accommodation ladder of the chemical tanker World Navigator were observed to swing away from the ship as it rolled.
Queen Charlotte Sound, 11.7.2012: The Kaitaki was forced to sound a series of horn blasts when it came across the launch Tira Hou, which was en route to Picton. In reduced visibility, the Kaitaki had to drastically reduce speed, before the Tira Hou made a sharp course alteration just 50m from the vessel.
Wellington Harbour, 12/08/2012: With a GPS course "grossly in error", the container ship AAL Brisbane was on track for a near-miss with Pencarrow Rock before the harbour pilot came on board, noticed the mistake and adjusted the course, avoiding a grounding.
Cook Strait, 30/08/2012: The Kaitaki was leaving Tory Channel when it was noted the gas tanker Astrid had not made any action to avoid collision. When the Astrid could not be contacted, the Kaitaki had to alter course.
Wellington Harbour, 2/10/2012: The Kaitaki had to change its heading to make room for an oil tanker, Pacific Lohas. The two passed 50m to 75m away from each other.
Marsden Pt, 27/10/2012: A small boat was speeding towards the oil tanker British Curlew when it noticed the ship and veered off at the last minute.
Source: Maritime NZ. "Near-misses" are defined as "a sequence of events and/or conditions that could have resulted in loss. This loss was prevented only by a fortuitous break in the chain events and/or conditions. The potential loss could be human injury, environmental damage or negative business impact.