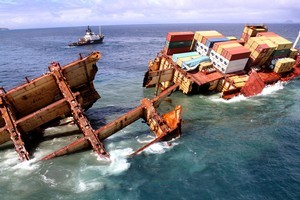 The remains of a shark which washed up on Motiti Island in a distressed state have been sent for testing by iwi concerned about the effects of the oil dispersant used in the Rena spill.
Maori residents on the island want to know whether compounds from the dispersant and other chemicals have entered the food chain.
They contacted Waikato University coastal science expert Chris Battershill and have sent him samples of skin, gut and liver, to see whether tests can tell Tauranga Moana iwi anything more about how fish life has been affected since the stranding.
The shark had washed up "half dead" although some locals have not discounted gill netting as a reason for its condition.
A Motiti resident, who did not want to be named, spends her days on clean-up duty around the island's beaches.
Last week, she and her cousin saw "a barbecue-table" sized shark floundering in the shallows and pulled it in.
"It was pretty limp, like it was exhausted. It more or less died when we pulled it in, it didn't fight," she said.
The woman said she was directed to get kidney and liver samples.
"We had fun with that. We cut it up and grabbed what sort of looked like organs but we labelled them with question marks."
The university and an independent laboratory will use the samples to determine what effect, if any, the 200 litres of Corexit 9500 initially used to deal with the spill in the early days of the grounding may have had on the samples.
Tests will also look for heavy metals and oil and may also tell iwi and other locals what else may have been washed off the Rena.
Professor Battershill said that in some cases there were good reasons for using dispersants, if for example an oil slick was headed towards endangered marine animal breeding grounds.
But not enough was known about their long-term effects.
It was better for oil to "weather off" or evaporate off the water's surface.
The shark tests tests might find nothing, but they would add to knowledge about what was happening near the Rena wreck "because these sharks would have been feeding around the island".
About 500 of Rena's containers remain unaccounted for.
Richard Van Der Spoel, of container recovery team Braemar Howells, said that while some containers had been identified and tagged, others could resurface a long way from shore.
"There's none floating at present. Or none that we can find anyway.
"They've either all sunk or are on the beach [but] it's possible for them to move, depending on the surge and how much they weigh.
- additional reporting, APNZ