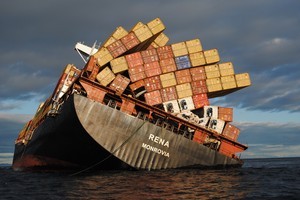 Salvors working on preparations to pump the last tank of heavy fuel oil off grounded Rena are making good progress, says Maritime New Zealand.
Three salvors remained on board overnight and other team members returned this morning to the ship, which has been stuck on Astrolabe Reef off the Tauranga coast for a month.
About 358 tonnes of fuel oil remains in the Rena's submerged starboard five tank, so the salvors are using a "hot tapping technique", and have been pumping sea water into the tank to raise the oil to the top, where it can be pumped to the barge Awanuia.
Hot tapping involves pumping water through the ship's deck into the fuel tank, raising the oil to the top so it can be pumped out.
All of the equipment had to be transported on board, including a 100kg pump, 150 metres of hoses and about 30 metres of ladders, said salvage unit manager Kenny Crawford.
The ladders would provide the most level pathway possible along corridors and through hatches for the oil coming out of the tank.
At the same time, the salvors are continuing to pump lubricants, hydraulic and waste oil off the Rena.
Meanwhile, shoreline assessment teams are working at Mt Maunganui to decide the best methods to clean up more oil which has been reported there over recent days, said national on scene commander Alex van Wijngaarden.
Today (Sunday), volunteers are taking part in the 100th official beach clean-up event, which began at Papamoa this morning.
Volunteers are also working at Te Tumu and Maketu today.
Since the official volunteer programme began on October 12, more than 4000 volunteers have taken part in the official beach clean-ups, putting in over 12,000 hours, said co-ordinator Bruce Fraser.
"It's a fantastic effort that shows the sense of affinity that people feel with the beaches," he said.
There are 401 birds in care at the Oiled Wildlife Facility, and all have coped well with sound from the speedway event which took place nearby last night. Two more oiled penguins are being brought to the facility from Motiti Island today, for treatment.
Sonar searches of the seabed are also continuing to locate containers that washed overboard from the Rena during the storm three weeks ago.
- APNZ
- APNZ