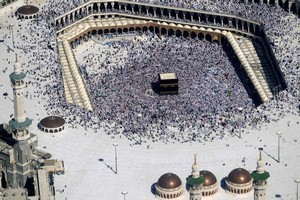 Grave fears are held for the survival of an Australian man sentenced to 500 lashes and a year's jail for blasphemy during a pilgrimage to Islam's holy city of Mecca in Saudi Arabia.
Father-of-five Mansor Almaribe, 45, who has been in prison since his arrest on November 14, suffers from diabetes, heart disease and other health problems.
"Five hundred lashes on his back, and he has back problems," one of his sons, Mohammed, told ABC radio.
"I wouldn't think he'd survive 50."
Almaribe was arrested in Medina, the second holiest city of Islam and the burial place of the Prophet Muhammad, during the Hajj pilgrimage to Mecca, a duty of all able-bodied Muslims.
His eldest son Jamal told the Age that Almaribe had been reading and praying in a group when he was arrested by religious police and charged with insulting companions of the Prophet.
Almaribe could not afford a lawyer and was sentenced to lashing and jail on Tuesday despite efforts by the Australian ambassador, Neil Hawkins, to persuade Saudi authorities to treat the ailing Shepparton, Victoria, man with leniency.
A consular official was present at the hearing, at which an initial two-year prison term was halved.
Almaribe's federal MP, Sharman Stone, has urged Foreign Minister Kevin Rudd to intervene and the Foreign Affairs Department said it would "urgently" continue pleas for leniency.
The director of the Australian National University's Centre for Arab and Islamic Studies, Amin Saikal, told the ABC that Saudi legal authorities would have to justify the severity of the sentence.
"It depends on the nature of what he's been convicted for, but 500 lashes certainly seems excessive," he said.
Earlier efforts to soften Saudi justice, however, have failed.
The kingdom, influenced heavily by the dominant, extremely conservative Wahhabism movement, enforces a strict form of Sharia law that imposes harsh punishments for religious and criminal offences.
Death sentences are imposed for crimes ranging from murder and drug-related offences to homosexuality and abandoning Islam. Flogging is regularly used to punish a wide range of offences.
In 2003 intervention by former Liberal Prime Minister John Howard failed to stop the 300 lashes imposed on 55-year-old expatriate Australian Robert Thomas, who was flogged because he was considered legally responsible for thefts allegedly committed by his wife.
Lodging a formal complaint with the Saudi Government, Howard described the sentence as "appallingly inhumane".
Last month a Saudi woman was still facing 10 lashes for driving a car despite intervention by Saudi King Abdullah, and Amnesty International's latest annual report slammed the heavy use of the cane.
It gave as an example the 90 lashes inflicted on a 13-year-old schoolgirl in front of her classmates for assaulting a teacher, and the 500 lashes ordered by a Jeddah court for a man convicted of homosexuality. Noting the harsh penalties imposed under Saudi Arabia's Sharia law, the Foreign Affairs Department warns Australian travellers to the kingdom: "If you are arrested or jailed, the Australian Government will do what it can to help you but we can't get you out of trouble or out of jail."