Grant Allen plans a French feast for Bastille Day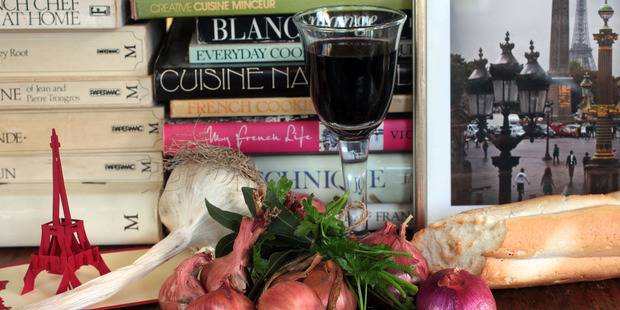 My third form French teacher was a striking woman. Mrs Anderson dyed her hair jet black, wore huge chunky jade jewellery, smoked cigarettes and had lived in France. This was 1960s Christchurch and her persona was so exotic to my eyes, as was anything remotely foreign.
One day she brought a camembert cheese to class. She cut it into slivers and handed it around for us to taste. I put in in my pencil case, uncertain of texture: this cheese was not from "the bigger block". Several days later I threw the rubbery morsel away - it was too foreign for me at the time.
I did not get to learn much French. My high school mate, Bob Parker and I were frequently sent to stand in the corridor for talking too much in class.
The following year I took German.
At 18, I took my first trip "overseas": I went to Noumea and was immediately "amoured". Pacific warmth and French culture - it was the best of both worlds.
It felt tres sophisticated dining in bistros, being surrounded by the seductive French language, shopping in a supermarche filled with imported French food, and all in a tropical paradise. By then I loved camembert and pate and wine.
Fast forward: I get involved in the restaurant business and become a partner at Pierre's in Wellington in the 1980s. Pierre Meyer takes me in hand and teaches me how to cook with classical French technique. After 18 years in the business I am totally indoctrinated. French technique is the ultimate way to make food.
During that time I made my first visit to Paris, France. It was a disaster. I experienced Parisian disdain of my pathetic attempts to speak French, had booked into a greasy-sheeted 18th arrondissement hotel with a snarling alsatian dog by the concierge's side. I moved immediately and found a warm family pensione. As I travelled to the more rural parts of France the country began to melt my heart. In subsequent years my heart has been lost to France, and am completely besotted by Paris (it has become much more foreigner-friendly in the interim). At heart I'm still that Christchurch boy being swayed by the foreign and different, looking at a life in a more stylised way than that offered by those straight-laced Canterbury Plains. I'm an unashamed Francophile, so naturally think Bastille Day has to be celebrated in style. Here's a French a dinner menu to enable you to do just that.


Recipes
• Roasted leg of lamb stuffed with vegetables gigot d' agneau farci
• Seafood soup (Soupe de poisson)
• The salad and the cheese
• Duck fat potatoes
• Marbled chocolate mousse (Mousse au chocolat marbree)