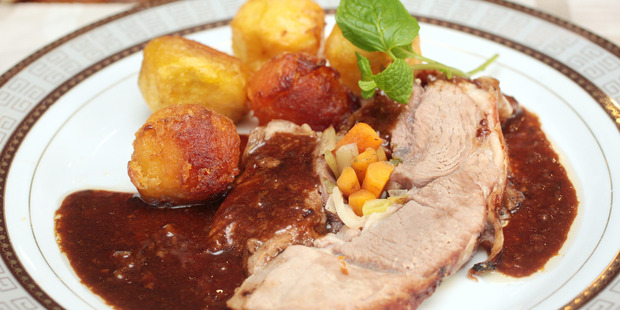 I bought a leg of lamb that weighed 2.2 kg, then asked the butcher to bone it out, leaving 1.7 kg of meat. Take the bone home with you.
Serves 8
• Around 1.7 kg boned out leg of lamb
• 1 litre of beef stock
• 2 medium sized carrots
• 1 fennel bulb
• Half a medium leek
• 2 sticks of celery
• Mint leaves
• 3 spring onions
• 2 tablespoons of olive oil
• 2 tablespoons of flour


Bring the meat to room temperature. Pre-heat the oven to 200 degrees.
1. Wash , peel and tidy up all the vegetables. Cut them all into strips about 12cms long and 1cm wide.
2. Open up the lamb on a board with the skin side down. Season with salt and pepper.
3. Bundle up the vegetable strips and mint leaves, arrange these across the lamb.
Roll the lamb back into its original shape. This can be a bit awkward but I usually skewer it all together with satay sticks till I get it right. Try and close over the ends of the roast so the veges are contained. Using kitchen string, tie the roast together to hold it all tight. It doesn't have to be perfect (the string gets cut away later), it just has to hold the meat in shape.
5. If you have kept it, sit the bone in the base of a roasting pan. Sit the meat (at room temperature) on top of the bone. If you don't have the bone, just put your roast in the pan.
6. Splash over the olive oil, and season well with salt and pepper. Pour over 500mls of beef stock.
7. Place this in the preheated oven and cook on this temperature for 20 minutes. Turn the oven down to 180, and continue to cook for another 45 minutes. If you don't like pink lamb, leave it in a little longer. Keep topping up the beef stock along the way if you need to, there should always be liquid in the base of the roasting pan.
8. Remove the meat, cover it with tin foil to keep it warm, and rest it for at least 20 minutes before serving.
To serve, slice across the roast to show the vegetables in the middle section.
To make the sauce:
1. Remove the bone from the pan. Sit the pan on a element and scrape all the bits up from the bottom of the pan. Add the remaining beef stock and bring to the boil.
2. Sprinkle some flour over the top and cook away until the sauce is dark and spoonable.
3. Check the seasoning. Just before serving, add a knob of hard butter and swirl through will give the sauce a nice shine.